I heard about a Korean restaurant called Gaia from a well known chef in Singapore. Apparently the owner is Korean and she is in the process of writing a Korean cook book. I though this might be the authentic Korean restaurant I have been looking for.  Previously, it was Dae Jang Keum in Shenton Way, but they have changed management and it's no longer as authentic as it used to be.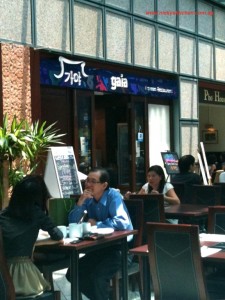 Gaia is located at Suntec. There were some events on when we were there and it was very noisy outside. So we chose to sit inside.  Some of the wait staff were Korean, so that got my hopes up. We ordered yuk ge jang (육계장 – spicy chilli beef soup) and the sun du bu lunch sets. (순두부 – sun du bu + chilli chicken) There were six different side dishes which kept us very happy until the main dishes arrived. My favourite side dish was muk (acorn jelly in soy sauce) and my girlfriend's was Lotus roots in soy sauce.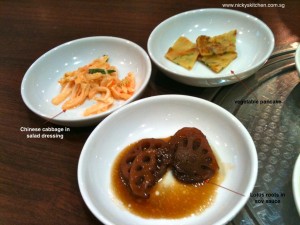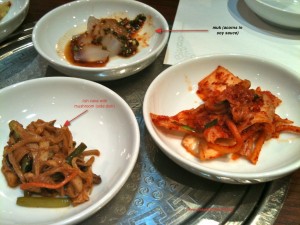 The main dishes arrived and the sun du bu was excellent. It was almost like having it back in Korea. However, my  yuk ge jang was different to what I remembered. So my girlfriend tried it as well and we weren't quite sure what it was but it almost tasted like it was about to go off. We asked the waitress if we can change. The owner  came out and explained that they make a new batch every day and they add special wine to get rid of the beef smell but we weren't convinced. She recommended another dish and was very apologetic. I ended up ordering grilled mackrel and finished the lunch with complementary watermelon slice.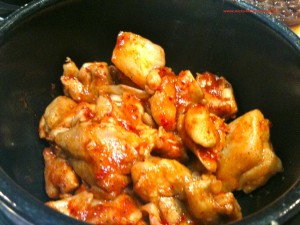 Overall, I would give the food 7 out of 10 and 8 out of 10 for the service. Drop by the restaurant for lunch rather than dinner as it is a bit pricey. Lunch was around $15 per person.
Gaia restaurant – 3 Temasek Boulevard, #03-10/12, Suntech City Mall, Singapore. Tel: Tel: 65 6339 3313