Since my last blog on  balcony gardening 101, the number of my baby plants has doubled. My new year resolution for 2011 was to grow more vegetables for my husband and I.
I have been recycling all the plastic bottles and planting new seeds every time I get a new bottle or container. In two or three months time I should be able to harvest a whole variety of  fruit and vegetables including Korean melons! 🙂
I am so proud of my baby coriander below. I never had success before but with coriander seeds I bought in Thailand, they germinate like weeds. I thought that I could harvest them after a few months, but they are growing much slower than I thought. Two months and only 10cm tall.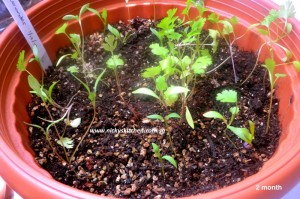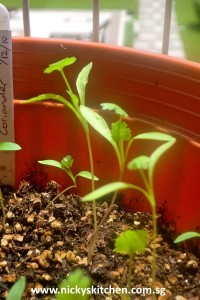 The next picture is of perilla plants. I haven't had much luck finding these in Korean grocery stores so I am hoping I can be self sufficient.  We use the leaves to wrap around bbq meat. It's funny how some grow  faster than others. I have transplanted 3  little ones into a bigger pot.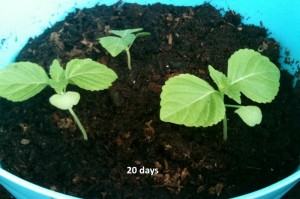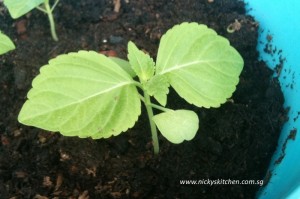 The radish is also growing very well. It is a root vegetable so it shouldn't grow too tall. I read in my gardening book that I can add more soil around the lower stem for stronger roots.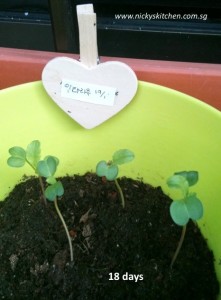 Additional family members that I have recently planted include Korean berry king tomatoes and Thai cucumbers. As the weather is still nice and cool(for Singapore standards anyway), everything is germinating well!! I am still figuring out how to perfect tomatoes by trying different types of tomato seeds. Now I have ones from Malaysia, Thailand, Australia and Korea… Let's see which one survive the Singapore weather the best.
Korean berry king tomatoes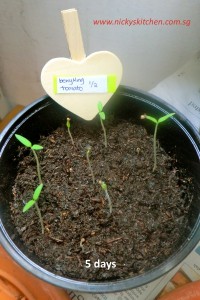 Thai cucumbers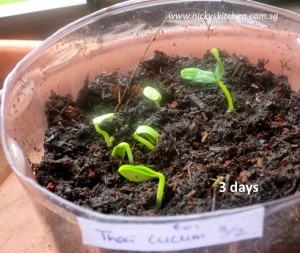 Lastly, I have only one cucumber on my cucumber plant. It's growing in a funny shape (not sure why) but I don't care, I am just waiting for it to be a little bigger so I can have a bite! 🙂