My last balcony garden journal was in June. I guess everyone's been wondering what's happened in the last 3 months?
So since June, nothing much survived except a few plants because May to August is the hottest time of the year here in Singapore. After almost 8years(OMG!!) in Singapore, I should be more tuned with the different seasons in Singapore, right? Most people don't realise that Singapore does in fact have seasons (although you would be hard pressed to recognise them!).  During November – January it is hot during the day but amazingly pleasant in the evening. For the rest of the year it is simply hot, hot, hot with the worst months being May to August. So for those of you like me trying to grow a variety of vegetables during the hottest months, try hardy plants such as different basils and mint. Remember to keep them in a shaded area and water regularly!
Some of the plants that survived well in the heat are Italian parsley and thyme. I am amazed that they made it through the extreme heat and humidity. I succeeded in growing them from the seeds for the first time! Now when I need some for my pasta, I just walk out to my balcony a grab a few handfuls of fresh herbs. It's heaven….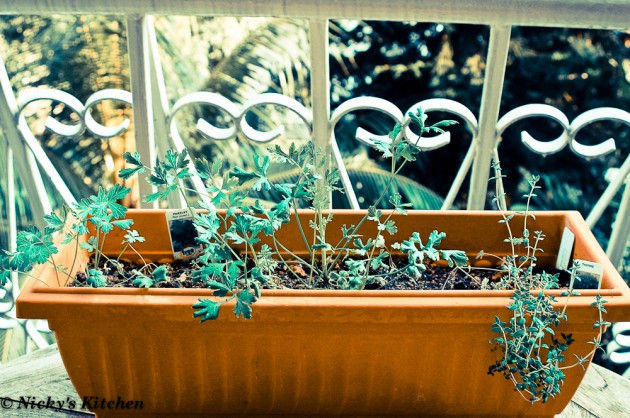 And then here is my Florentine tomato which has gone wild! You might remember the little seedlings from my last blog in June. It's about 1.2metre high and its stems are thick and healthy.  What's interesting is the top part of the stems are all joined together as you can see below. There are 4 tomato flowers and hopefully a lot more to come. I am hoping to pick some juicy tomatoes in a month or so. Cross my fingers and toes!! Sadly the Italian Roma tomatoes are not doing so well. They are looking pale green and the leaves are turning purple.
The basil growing in the same pot is also from Italy and I have been giving these as gifts to friends to grow themselves. Unlike the ones from the supermarket, it has fantastic aroma. I have been using a lot of this basil to make bruschetta. All I need is some big juicy home-grown tomatoes and it will be an authentic Italian bruschetta!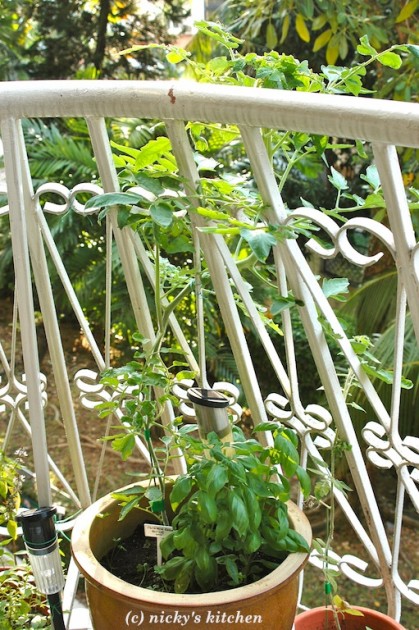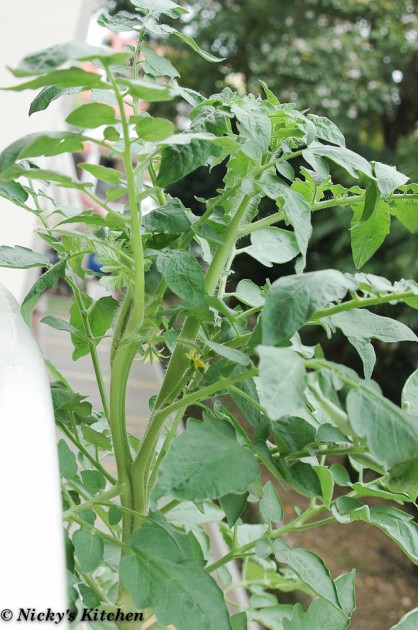 Here are the photos of my real garden plot. Some of you have seen a glimpse or two in my previous blogs. Again, I gave up due to the heat but amazingly everything is doing well. I have picked at least 8 eggplants. A few pumpkin plants have also cropped up in a pile of compost and the basil has flowered attracting a lot of butterflies and bees.
The only one sad thing about this garden is that it is now shadowed by a construction site and not very pleasant to potter around.  Men at work next door…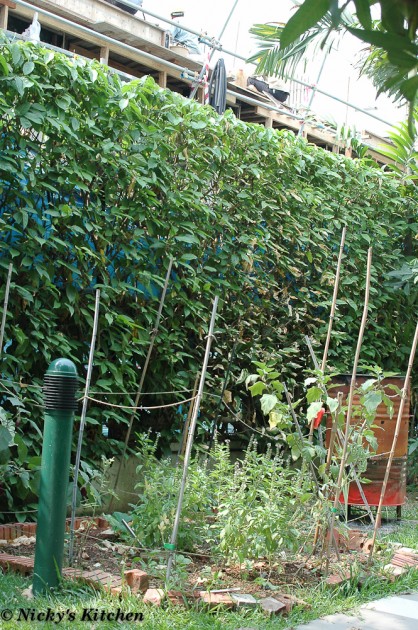 My crops always look huge in the photographs. This eggplant is actually only the size of my palm. If I can harvest three, it's good enough for my dinner as stir fry vegetables.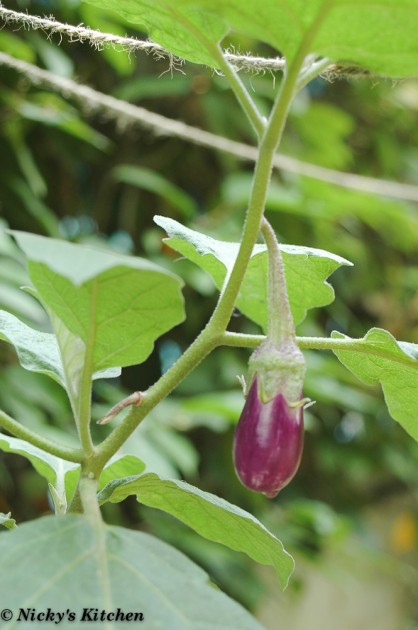 Now this is remarkable. I have a little compost bin which I put all my food scrap. When the bin is full, I dig a hole in my garden and fill it with the compost for the worms to eat. Among the food scrap, there must have been some pumpkin seeds. After a month of being buried in the garden, these little baby plants appeared out of the food scrap!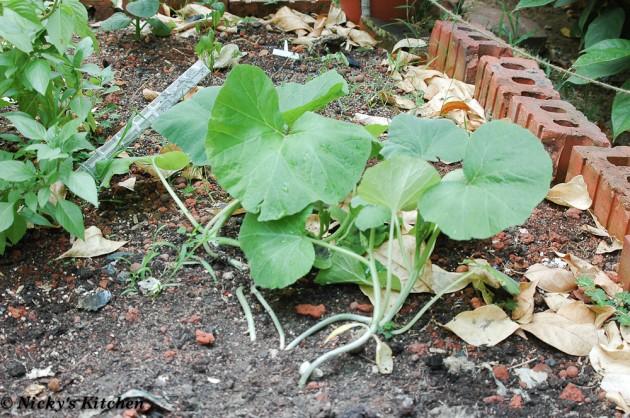 No matter what I do, these basil continue to flourish. All the basil flowers attract a lot of little flying creatures which are very good for my vegetables. If you look closely, you can see a bee collecting honey.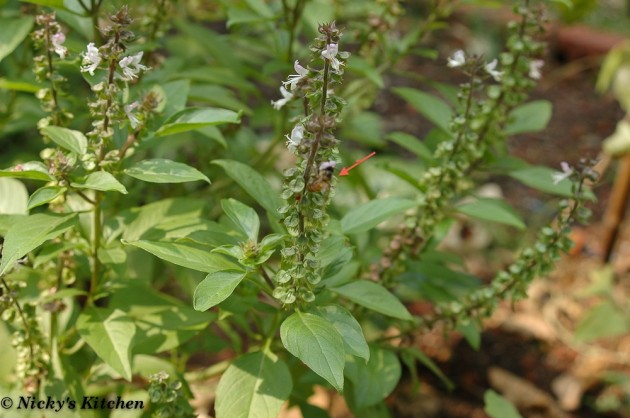 Finally a new addition to my garden is Malabar spinach from a Farm Tour organised by the Vegetarian Society of Singapore a few weeks ago.  Since it's so hard to grow lettuce in the heat, I can use this Malabar spinach as a replacement in salads. The Australian Malabar spinach that I grew previously from the seeds were growing very well initially and then just started to flower before I had a chance to pick any leaves for my salad!! Hopefully, these local ones will supply lots of leaves.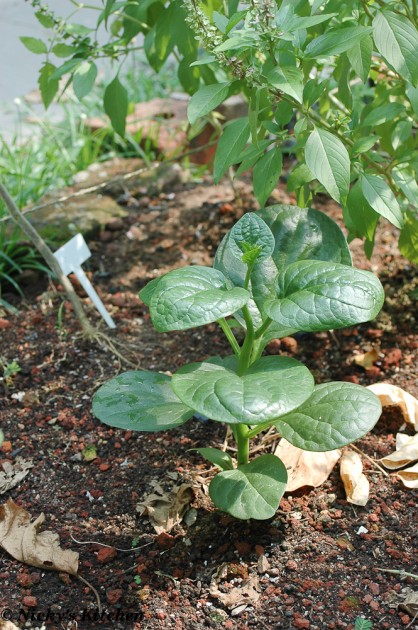 I just planted a few more parsley, thyme and basil seeds yesterday to keep the supply going throughout the year as well as a few more variety of tomatoes for the cooler months ahead.
If you have any questions on growing vegetables in Singapore, drop me a line! I'd be happy to hear from you 🙂