If I have to pick one restaurant from my childhood memory in Korea, there is only one that pops up in my mind. Every time I visit Korea I always go.  The restaurant has been around since 1966 and it's renowned for their handmade noodle soup (kal guk su-칼국수).  Why do I like this restaurant so much?  Firstly, there aren't many non-chain restaurants that make their own noodles and their authentic stock like this one. Any guesses??  Drum roll please….. Myundong Gyoja (명동 교자) restaurant!
My last visit to Korea was going to be a slightly different to my usual trip. Instead of going to all my usual favourite places, I decided I was only  going to try new places,  but Myundong Gyoja had to be an exception. I just couldn't go back home without having my fix from Myungdong Gyoja restaurant.
My girlfriend and I arrived at the restaurant exactly at noon and luckily there were only a few people waiting for a table. Usually, there is a long queue with a mix of locals and tourists.  By the time we finished our lunch, there were at least 50 people waiting outside for tables.  The staff  were very efficient and friendly despite the high turn over of the customers and all the food was served really fast. Don't expect to sit and chit chat however. It's one of those restaurants where you eat and run…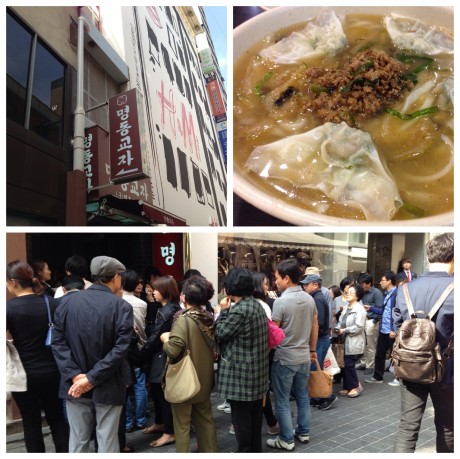 kal guk su(칼국수), aka handmade noodle soup is the star dish here. The free flow Kimchi is also very famous and has an incredible amount of  garlic.  It's so strong they give you chewing gum when you ask for the bill to ease the smell of garlic. Besides the kimchi, a bowl of rice mixed with millets is served free of charge with  the noodle soup. It's a lot of food for only S$10.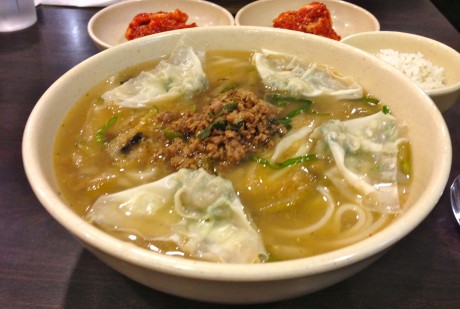 I was reading through a few reviews on the restaurant in Korean and one of the reviews suggested to order only one bowl of kal guk su and one serving of dumplings so you can have best of the both.  We were silly enough to order a bowl of noodle soup each and ended up staring at other customers with dumplings!!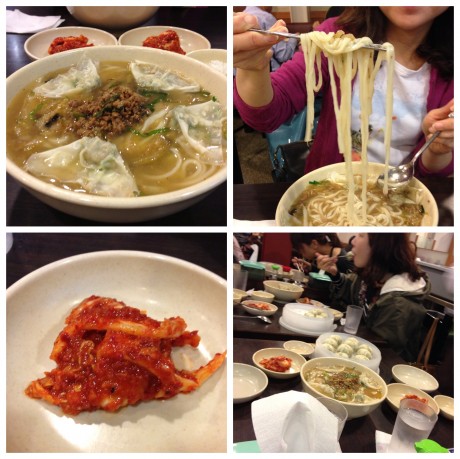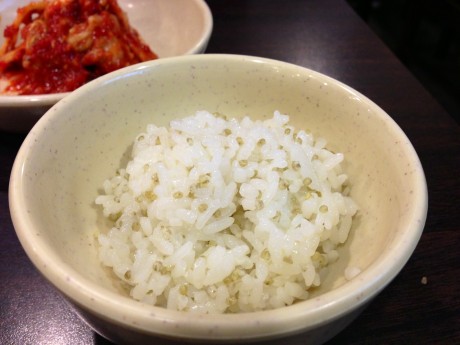 Other dishes served in this restaurant include cold soy bean noodle (kong guk su) and chilli noodles (bibim guksu). I have never tried these dishes simply because the kal gul su is the best and leave no room for anything else. According to the restaurant website, you can  buy their home made kimchi and take it away.
How to get to Myung dong Gyoja: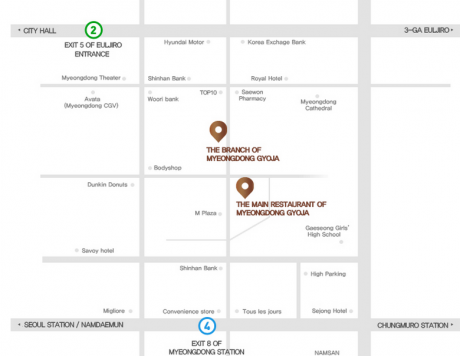 Address:
Seoul-si Jung-gu Myeongdong 10-gil 29
(Myeongdong 2-ga)
There are two Myungdong Gyoja restaurants in Myungdong, They are not too far from each other.  If you are heading to Seoul next time, don't forget to check this out!