My trip to Korea a few weeks ago was a little dampened by an unexpected typhoon and the early arrival of monsoon season. The weather was great on the first two days and then rained day and night from day three. At one stage, the rain and wind was so strong I didn't think I was going to make it back to Singapore.
I usually go to Nam-de-mun market when I go to Korea but this trip I decided to visit somewhere less known(by tourists) called Gwangjang market. It's located in between Jongno 3ga and jongno 5ga subway station. I didn't realise how big this market was until I had a look at the map. It is more known to the locals as a wholesale shops and food.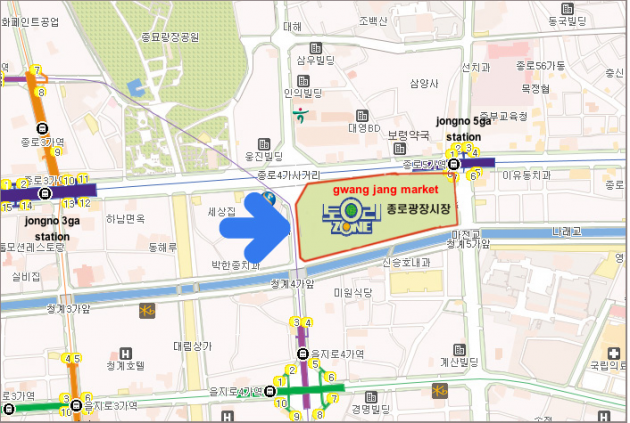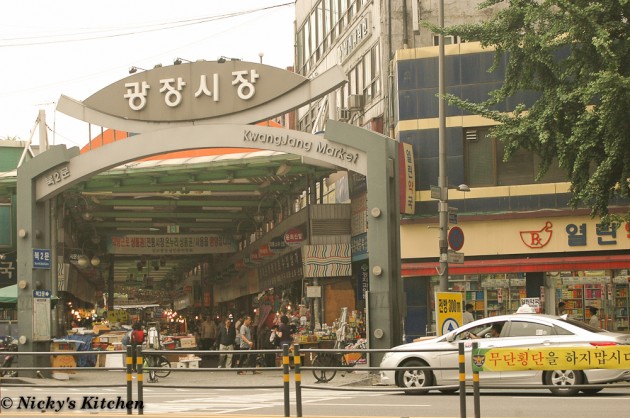 Gwangjang market was opened in 1904. You can find many wholesale shops selling Korean traditional costumes (hanbok -한복) and fabrics. This is where I usually by my bath towels. Only ₩10,000(U$10) each and the quality is exceptional. I used to visit this market to either buy towels or have lunch so I never really took the opportunity to look around.
It also has an old fashion market selling fresh vegetables and seafood.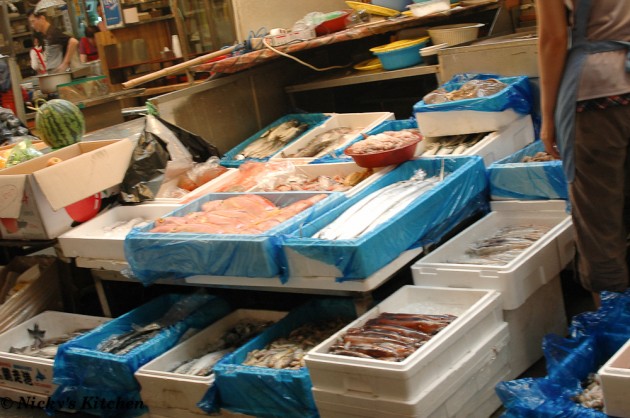 This is one of the most popular fish that Koreans use. You can't find it in a western supermarket. It's called hairtail or belt fish. We love to grill or steam them in chilli powder and soy sauce. I have seen this fish in the Malay market in Singapore a few times but it's usually really hard to find.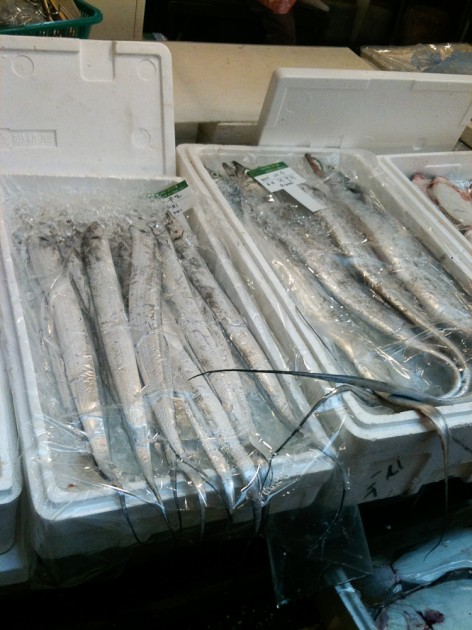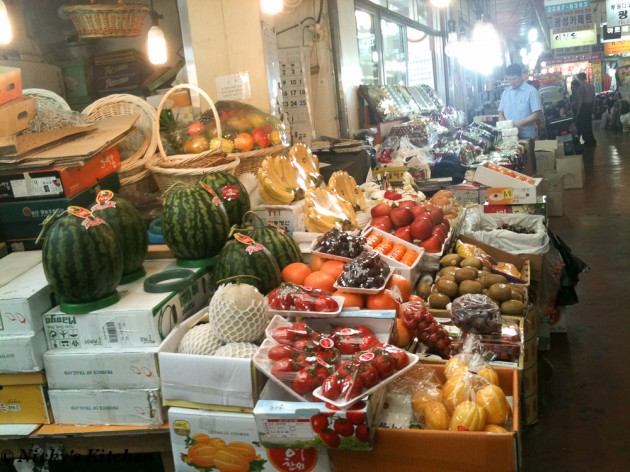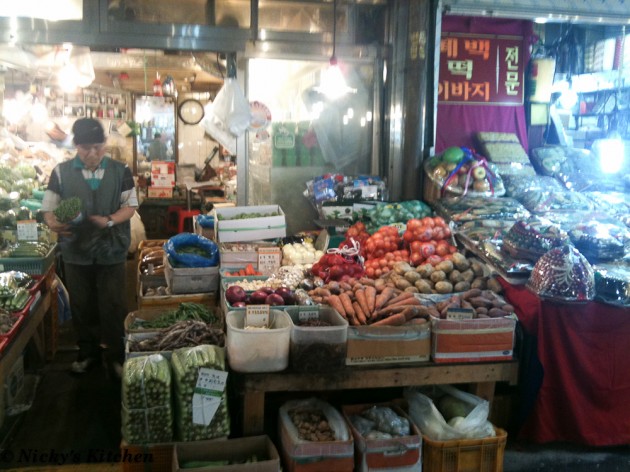 This was the most interesting shop I found. This lady sells homemade soy sauce, chilli sauce and miso paste. It was pity that I couldn't buy some. I am always given some by mum so It would have been an insult if I brought some home. Next time…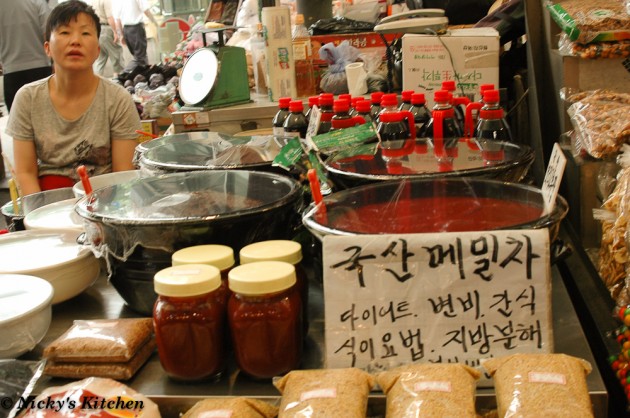 Besides the shopping, Gwangjang market is famous for muk ja golmok (street food-먹자골목). I had a little walk around the street and had lunch afterwards. It's a little bit like being in a Singapore hawker centre but much bigger. There are lots of little stalls. Some stalls were still closed as some only cater for night crowds.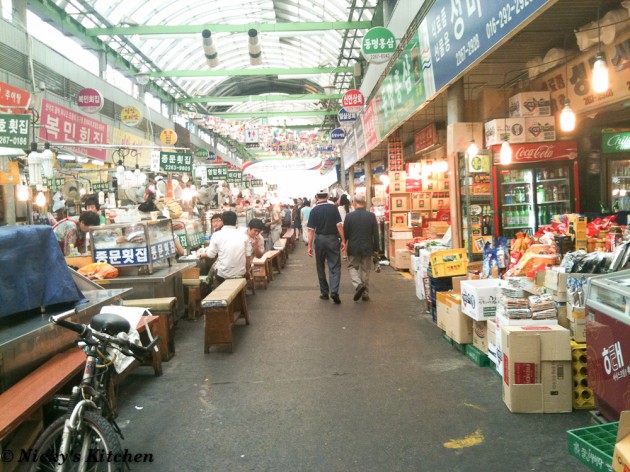 This stall sells chilli rice cake (dduk bok yi – 떡뽁이), japche, fishcake soup, pig trotters, gimbap. Pretty much everything!!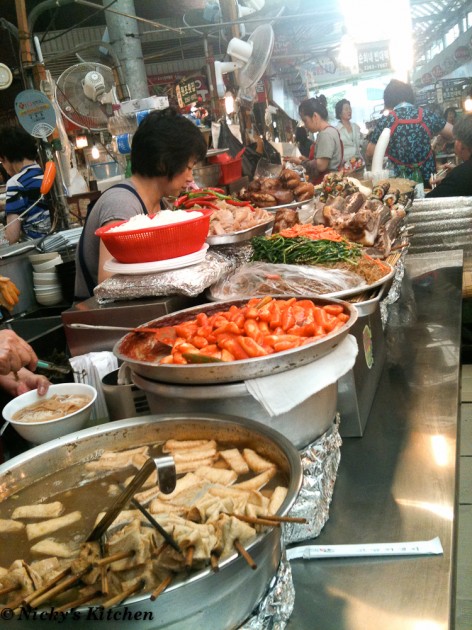 One of the most famous food in this market is mung bean pancake made the old fashion way. Mung beans are ground by the old stone mills.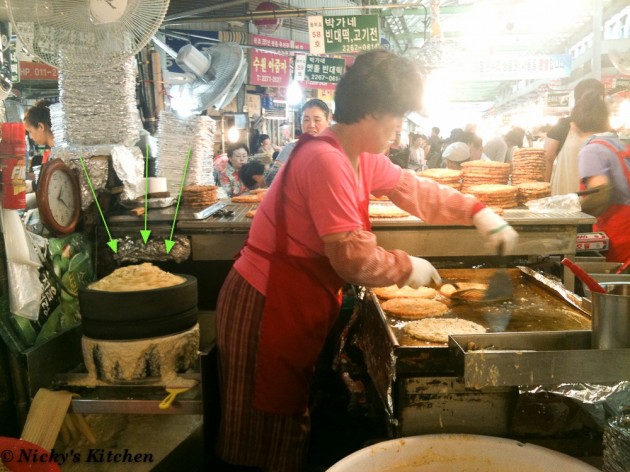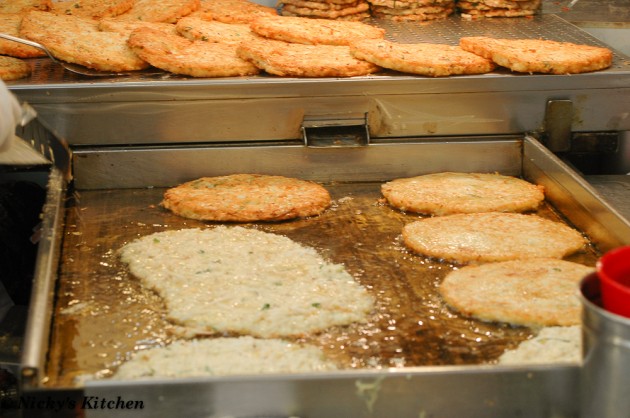 The second most popular food in this market is handmade noodle soup. I really wanted to eat this soup as the weather was a bit grey but obviously everyone thought the same as it was a full house!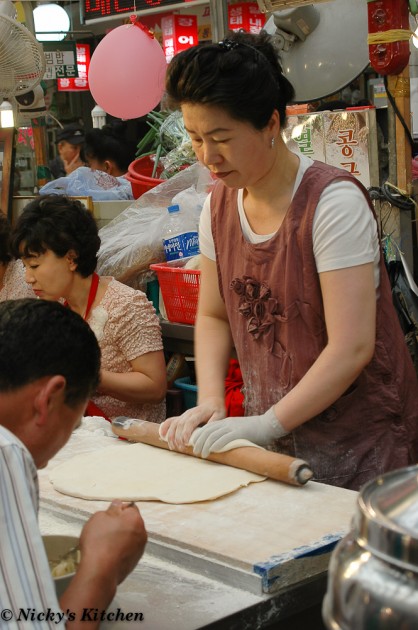 My lunch stop at the market!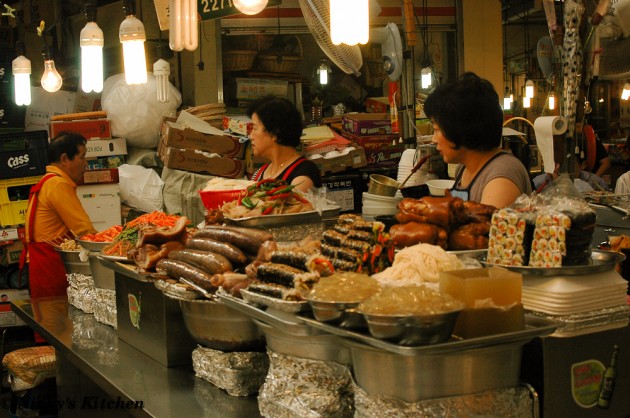 We ordered so much food. As usual, my eyes were bigger than my stomach! The first dish is a very simple noodle called party noodle(janchi guksu-잔치국수).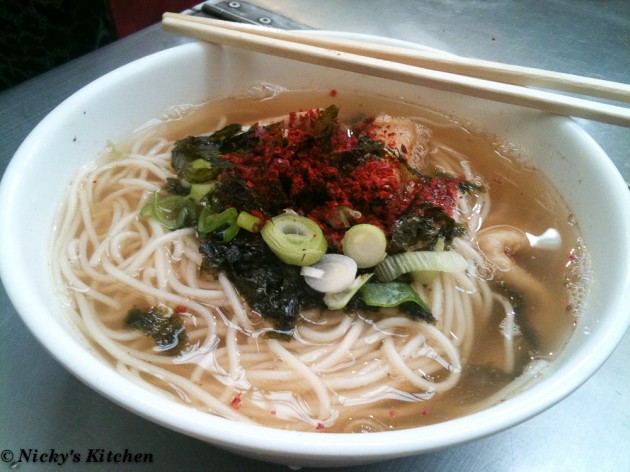 Mini gimbap with soon de also known as Korean blood sausage. Some people just love this.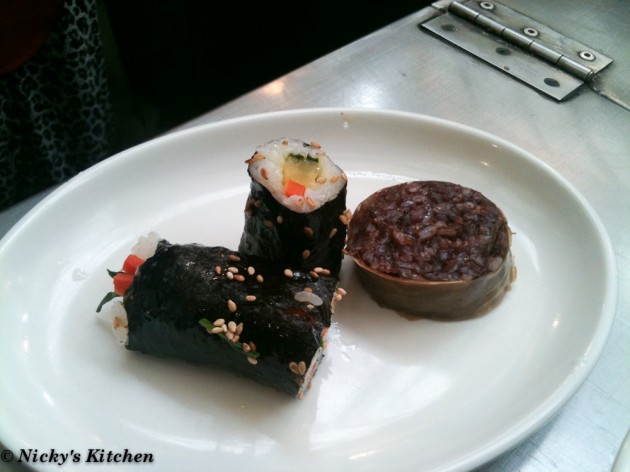 Next is one of my favourites to have in summer. You can see ice floating in the soup. It's soybean soup with rice noodle. Very refreshing…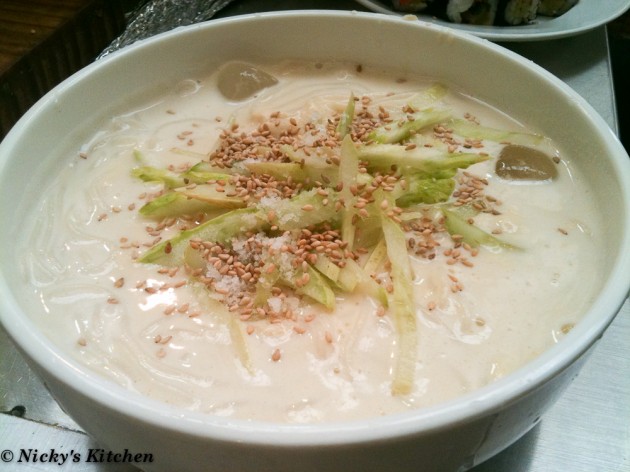 After all this food, I had to make a quick stop by a dessert place. This lady has been here with her mother making rice cake for the past 10 years. When I visited she was making rice cake which is made with glutinous rice powder and red bean. Her hands were so fast, I could barely see what she was doing.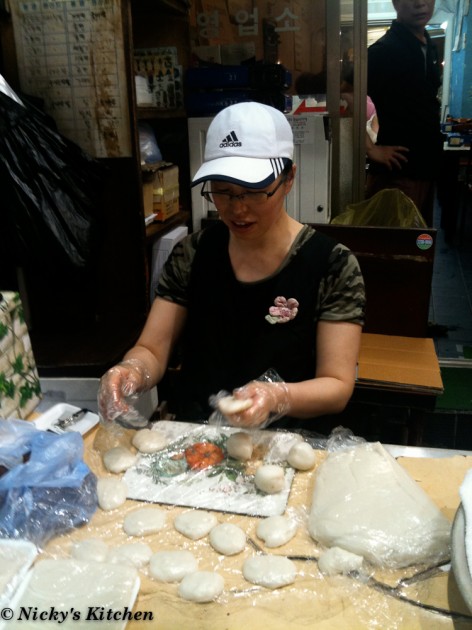 If you are visiting Seoul, check this market out. I think it's an authentic way to experience Korean food and cheap shopping!