When I was walking around Gwang jang market (refer to my last post here), I came across some Korean food I haven't seen for many many years. Beondegi (번데기)!
Believe it or not, this used to be my favorite street snack when I was young. Nowadays, you just don't see street vendors selling it any more.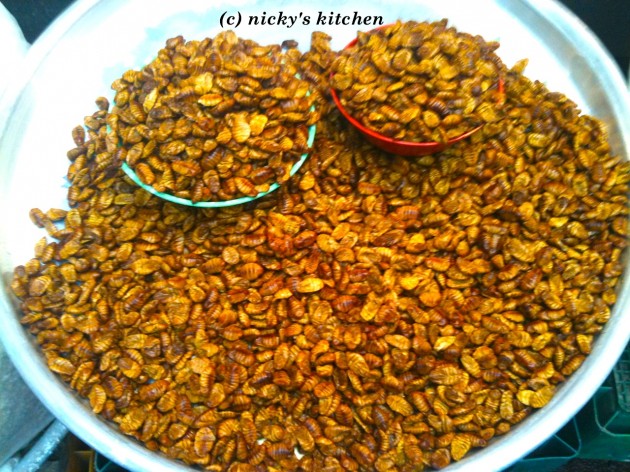 So what are beondegi….? I didn't even know until I looked up the translation in English. I was in horror. I always thought they looked a little suspicious and in the back of my mind I knew they were some sort of little creatures but I refused to admit it because they tasted so good. Now I know what they are I don't think I can ever eat them again….   🙁
According to my research, beondegi are  silkworm pupae.  Yes, Silkworm!!!   I always thought Koreans didn't eat insects but I guess I am wrong.
So what do they taste like? It's hard to describe in one word… It's nutty and neither soft nor crunchy. I can't compare with any other food. The ones in the pictures are not cooked so you can either steam or boil with some salt and eat them as a snack. They are known to be high in protein and a lot of people eat them when they are drinking alcohol.
You can also buy these little creatures in a can already cooked and seasoned.
Stew style canned beondegi for 1900 won (approx S$2)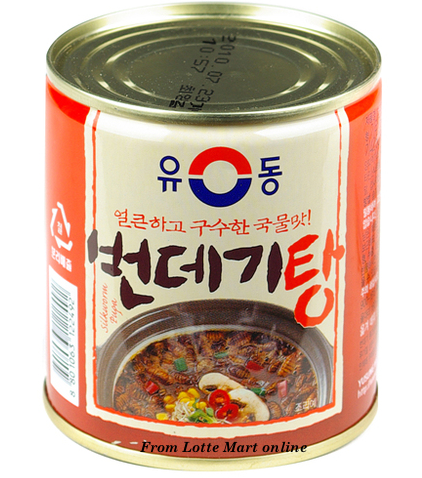 Seasoned beondegi 760won (less than S$1)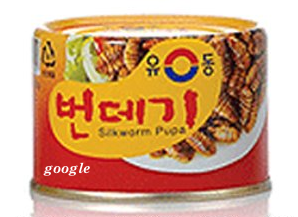 Unfortunately, I haven't seen these in Singapore supermarkets so you can't rush out and buy them to try. If you are heading to Korea or know someone going to Korea, you can always ask them to get you a can if you are brave enough to try!