I just spent 6 days in Seoul with one objective in mind. Eat my way through the city! The dreadful sticky hot summer is gone and I was welcomed by a beautiful autumn breeze when I landed. What a difference…. It was so pleasant to walk around and enjoy the change of the season.
I must have taken at least 500 photos of all the food but I will start with my favorite street food that you can too enjoy when you visit Korea next time.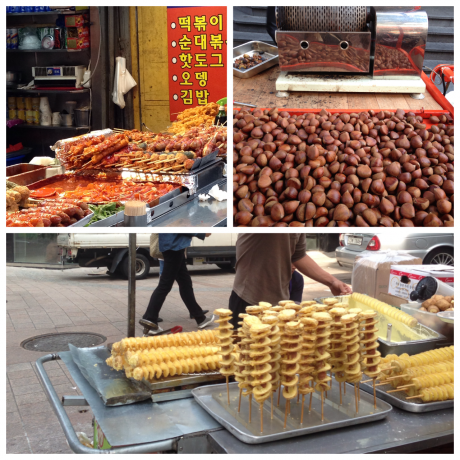 Top left hand box: An old time favourite – chilli rice cakes (dduk bok yi -떡복이)  was on every street corner. You can buy USD$1 worth and eat as you stand right in front of the stall.  There were a few other sticks in chilli sauce but everyone seemed to enjoying the chilli rice cakes.
Top right hand box: you can only find these in autumn and winter – roasted chestnuts! The silver device you see in the background is the roasting machine. Personally, I prefer the old fashion style using a roasting pan over hot charcoal.
Bottom box: these sticks were new and were everywhere in Myungdong(명동). There were ladies on the side of the stall just peeling potato skins and putting potatoes through an unusual device that turned them into long spiral potatoes. Inside the potato, there is a sausage. These get dunked into hot oil and deep fried.  Nice and crunchy potatoes with a bit of protein!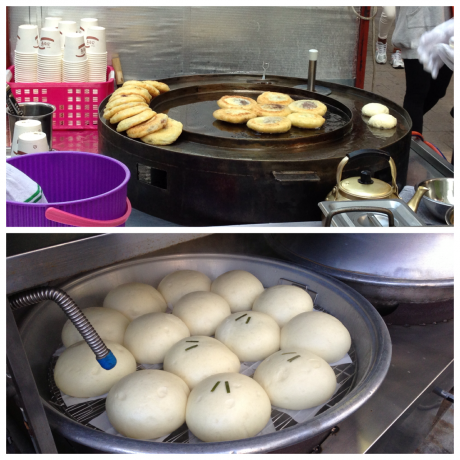 For those of you who have attended some of my cooking classes you will recognise one of the photos above. Hodduck (호떡) is a great snack while you are wondering the streets of busy Seoul. Even better when the weather is nice and cool…
The white fluffy buns above are the best thing I have found in Seoul. I will write more on these buns in a later blog but for now all you need to know is that these buns are called hobbang (호빵). They are  filled with either red bean paste or sweet potato or a mixture of minced pork with vegetables.  The buns with two green chives on top are the meat/vegetable filling ones. Each bun was as big as my face. Seriously…..
You didn't believe me, did you??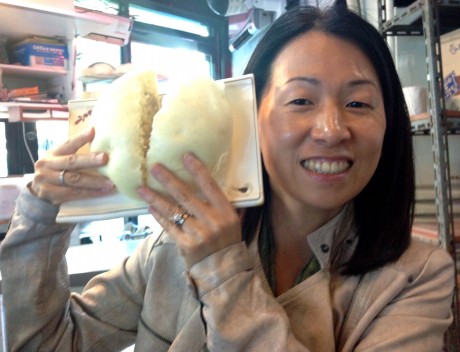 If you are visiting Korea soon, pack warm clothes. It dropped to 6 degrees one evening and it was so cold I thought my ears and nose were going to fall off.
Have a great week everyone!  😉