Sorry for the recent radio silence. I have been in Kuala Lumpur(KL) and then Sydney. Now my in-laws are in town!!
I was in KL to visit some friends and while I was there my Korean friend took me to a Korean restaurant she had been bragging about called Uncle Jang.  The  owner looks just like the logo! My Malaysian friends who are also big fans of Korean food decided to come along and help me with tasting.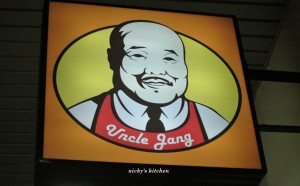 Can you see a guy in green t-shirt in the picture below? That's Uncle Jang!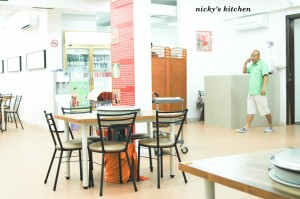 Uncle Jang specialises in chilli chicken (bul dak -불닭).  Bul means fire and dak means chicken. You might have guessed that the name of the dish is related to the spiciness! The menu is posted on the wall and is easy to understand. There are plenty of pictures and its written in both English and Korean.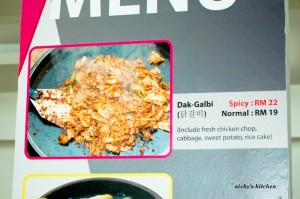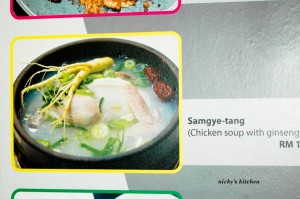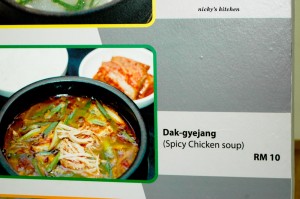 We ordered two servings of normal and one serving of spicy bul dak for 4 people as well as my favorite  brand of soju (Korean rice wine) called Cham yi sul. Just like the name- it is pure like the morning dew. I think we could have done with just the normal sauce as even one serving of spicy bul dak mixed with two servings of two normal was a little too spicy.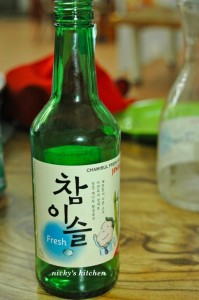 We started with side dishes as they were preparing the bul dak. Ice cold kimchi was served to prepare your palette for the spicy chicken.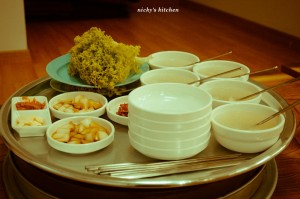 Can you see the ice in the bowl? Extra cold! The kimchi is called water kimchi and has no chilli in it. It's slightly sour and very cold. Perfect for hot weather and spicy food.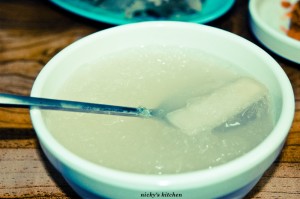 Every table was equipped with this hot plate. I think this may be the restaurant's secret to their great food.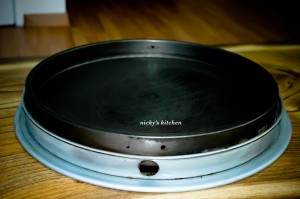 Check out the chilli sauce – looks scary! You can also see lots of cabbage with the chicken.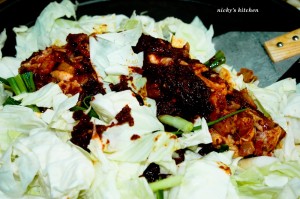 We also ordered some noodles as an extra dish as this was one of their specialties.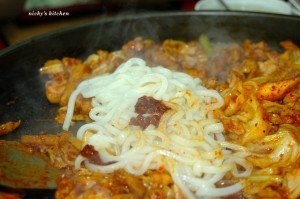 It was very addictive. The chicken was great but I just couldn't stop eating the noodles that was mixed with the sauce. They are just like Japanese udon noodles – thick and chewy.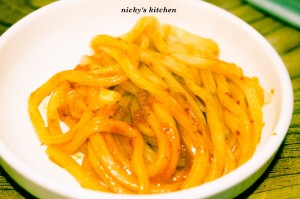 Once the chicken and the noodles  were finished, we asked for some rice. With the left over sauce, they made fried rice on the hot plate.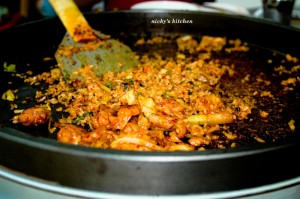 I think we ended up paying around RM20 per person. What a bargain!
The restaurant ran out of their business cards so I didn't get their exact address but they have 2 branches in KL. You can also find them on their facebook page.  I think the one I went was at Mount Kiara but the original one is at Ampang. Give them a call for their exact address if you are visiting KL. Tel: +60-380512208  I hope you get to try this delicious dish when you are in KL.