It must be the close proximity to Korea. Every time I go to Hong Kong, I am amazed at how many great Korean restaurants  there are. I was staying at Tsim Sha Tsui for the first time and discovered Kimberly street – which looked more like  Seoul. It was full of  Korean restaurants and grocery stores all packed with fresh vegetables!
The owner of one store recommended a Korean restaurant nearby where the chef was  genuinely Korean. My husbands favorite dish, gamjatang (potato soup, 감자탕) was on the menu, so we decided to give it a go.
Gamjatang means potato soup but it also is packed with pork bones. It needs to be for a boiled for a long time until the meat just falls off the bones. I have found the best place in the world to eat this but it's in Seoul so I often have cravings when I am travelling.
Like a real Korean restaurant, they had lots of side dishes served with the main meal. On top of that, their freshly made kimchi was to die for – something I don't say about kimchi often.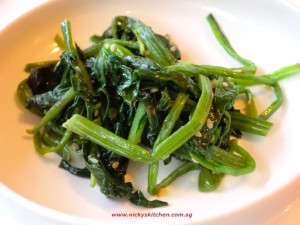 They also served a Korean style pumpkim soup which was yummy! I have never made this soup before but will now have to ask my aunt for the recipe. She used to run a traditional Korean restaurant and this was always served at the beginning of the meal.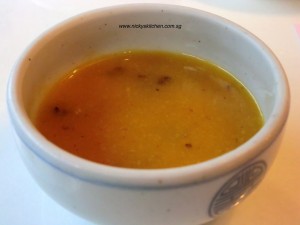 Here is the main star of the meal.  It looks huge but it was served in a shallow pot.  The green leaves you see in the soup are sesame leaves. I used to hate eating this because it had a very distinctive taste and smell but now I can't get enough.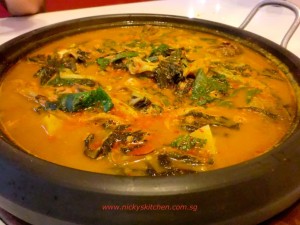 As expected, the meat simply fell off the bones.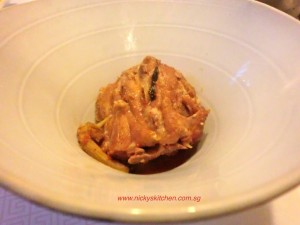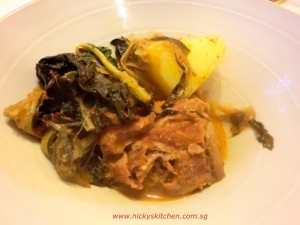 We finished the whole pot by ourselves…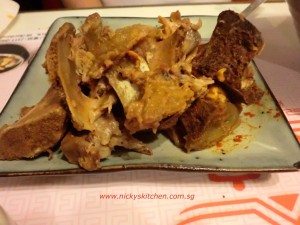 Here are the details of the restaurant if you are in Hong Kong.
Name: Gogoong (고궁)
Address: 2F, Toyo Mall, 94 Granville Rd, Tsim Sha Tsui. Hong Kong, Tel: 852-2311-0901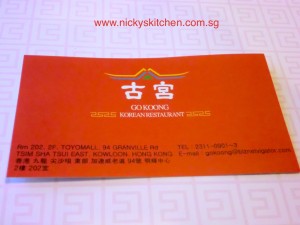 It was so good, I was inspired to have a go at making it myself. Watch out for my next blog!