I have a confession to make. At home we don't have a TV. Sometimes, I feel like I am living in isolation without it but then we manage by watching various programs and  the news online. I overload on TV programs when I am traveling as its the only time I get to watch it. I am just like a child in a candy store. 🙂
Last year I came across a Korean program(on Singapore airlines) called "Yes Chef!" and I got hooked on it. It's Korean version of Master chef. The main chef is Edward Kwon and he has an extensive culinary experience all over the world including Burj Al Arab Hotel.
Watching him was very inspirational. He brings Korean food to a whole new level. When I stumbled across him conducting a cooking event in Singapore, I was over the moon!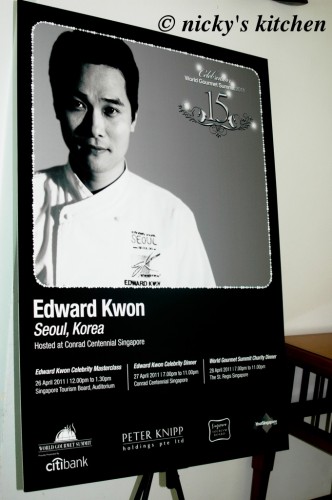 The three dishes taught were:
Chilled sam ge tang (aka ginseng chicken)- Chicken balootine, white cabbage kimchi & apple, cripsy garlic sesame oil
Gal bi jjim (Korean short ribs)- soy braised wayu short rib, potato gnocchi, puffed rice, kimchi bacon ragout
Su jung gwa shooter – cinamon & ginger drink shooter
A Singapore culinary celebrity, Christopher Tan was our Master of Ceremonies.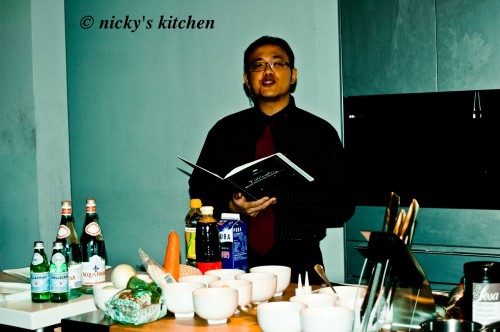 .
I was very impressed as well as a bit shocked by the first dish. Instead of boiling the whole chicken for 1 hour, he rolled the chicken and wrapped it in cling wrap. Then he boiled it for 10 minutes. Due to the limited time frame, we didn't get to see the whole process but after boiling the chicken he was supposed to plunge it in an ice water bath for 30 minutes.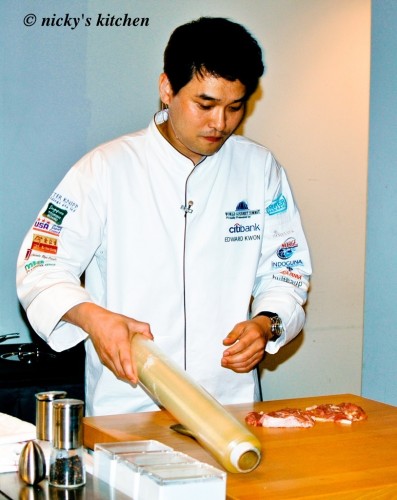 Now Edward is making ginseng foam to add a Korean kick to the dish. As ginseng could overpower the dish, he told us to use sparingly. Also, if you can't find fresh ginseng, he advised us to use ginseng tea powder. What a great idea!!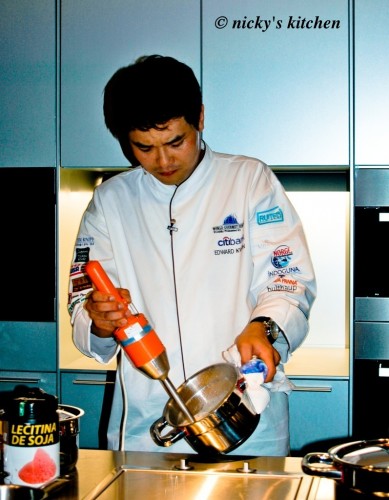 The first dish was ready and it didn't resemble the traditional ginseng chicken whatsoever! I really liked how Edward used different micro greens (baby vegetables) and red dates to style the dish.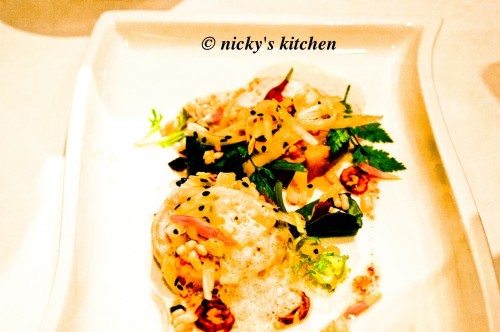 The next dish is called "gal bi jjim" in Korean. It is usually cooked in soy sauce and braised short ribs for 3 hours. As you can see in the picture below, he used wagyu beef which didn't require braising.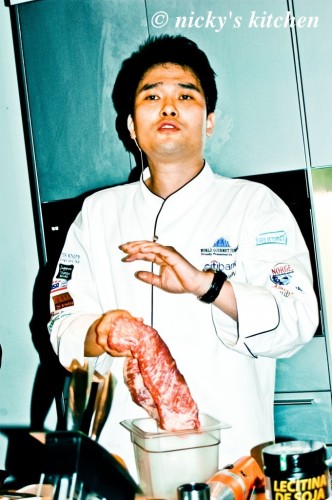 He cut carrots and onions in chunks and added a slice of Korean pear to soften the meat. A lot of people in the audience haven't even tasted Korean pear before and didn't realise Koreans use various fruits to soften meat before cooking it.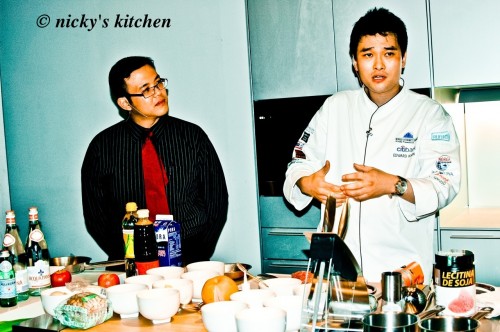 The second dish was ready! It is served with gnocchi and puffed rice. What you see on top of the beef is kimchi!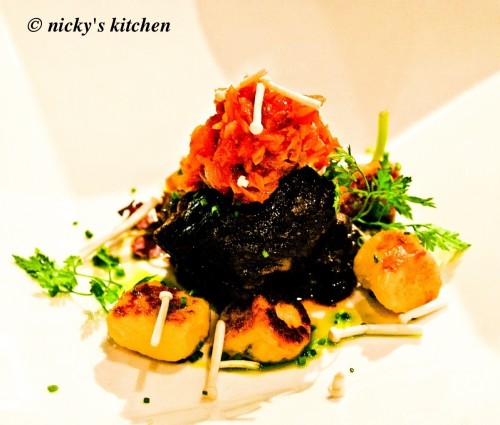 We ran out of time so he didn't manage to demonstrate the third dish, su jung gwa. Normally su jung gwa is made of cinamon, ginger and sugar and is served as a dessert tea to finsh your meal.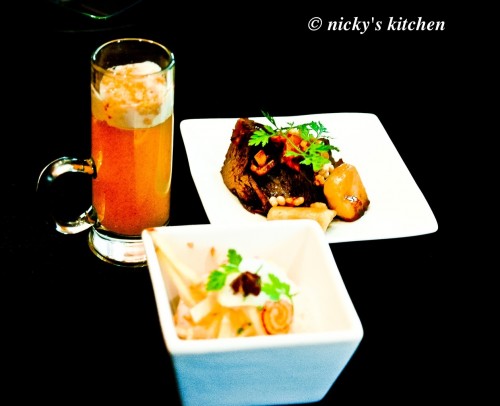 Out of the three dishes, I loved the beef the best. It was so tender, it just melted in my mouth. The sujugwa shooter was great except it was hard to drink out of the glass. The least I liked was the chicken as I didn't taste enough ginseng and it wasn't Korean enough. As for the presentation though, the chicken dish was the prettiest.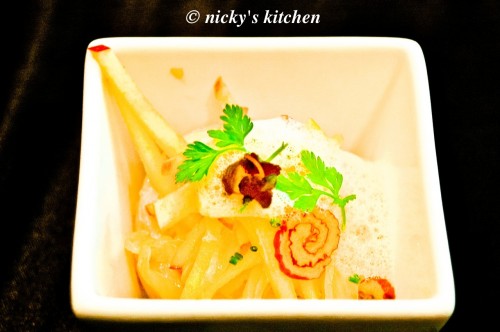 Su jung gwa shooter
After the tasting, I waited around to meet Edward Kwon. When I explained about Nicky's Kitchen and how I admire how he is changing Korean food, his advice was "to think simple". The autograph says "be happy" in Korean.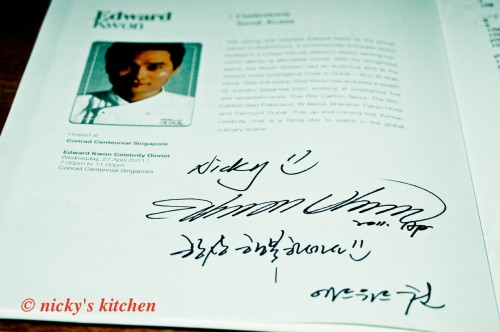 I might frame this program booklet. 🙂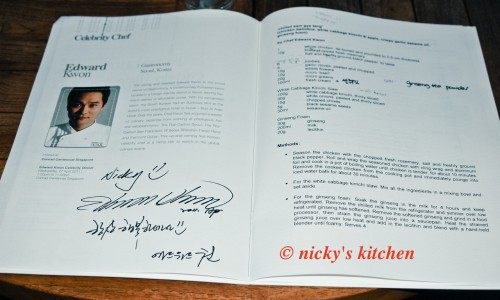 Say kimchi!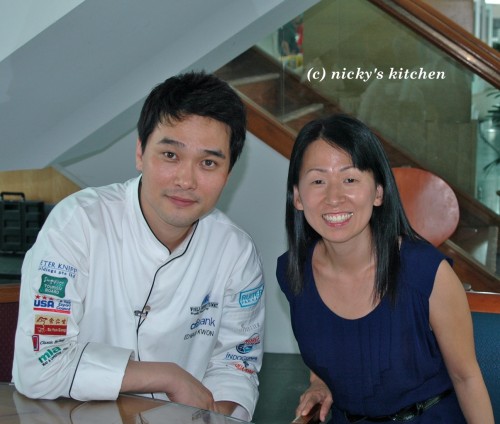 If you are ever in Seoul,  check out Edward Kwon's restaurant, "Spice".