I have been on medical leave for the past few months, nothing serious but I haven't been motivated to write. Still, I have been cooking and gardening a lot to keep myself busy. My parents finally came to visit me in Bangkok and brought lots of goodies from Korea. This is the best time of year for fruit so they brought grapes, plums, peaches, and Korean yellow melons. (sorry, I ate them all so quickly there was no time for photos!!)  On top of that, they also brought freshly made kimchi!!!!
I  invited some friends over for a Korean meal. Some of them have never ever tried Korean food so I was very excited to prepare some banchan (side dishes).
Koreans usually make a big container full of various banchans and eat them at every meal. Here are the two most popular ones for children.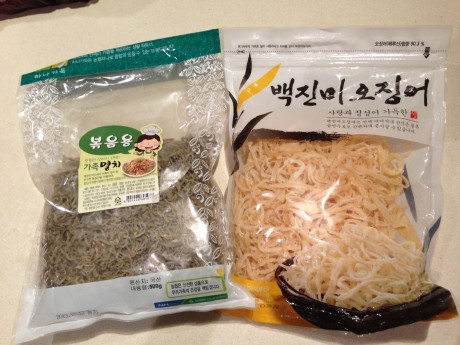 Stir fried dry anchovies (멸치 볶음)
300g  dry anchovies

some vegetable oil
a pinch of brown sugar
sesame seeds
pine nuts and Almond (you can also add walnuts or any other nuts you like)
** I prefer tiny small anchovies for this dish. There are many different sizes available in Korean supermarket.
 
Add a teaspoon of vegetable oil in the frypan on medium heat 

Once the oil is heated, add the dry anchovies and cook for approximately 5 minutes or until it's nice and crunchy. (Generally the anchovies are quite salty so I don't add any salt or soy sauce)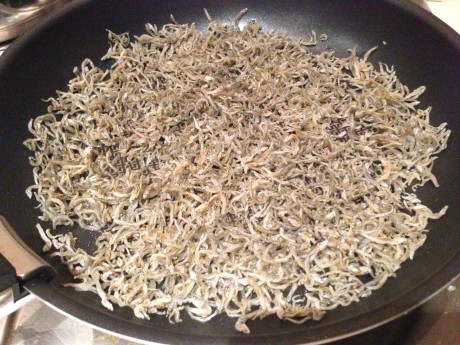 Keep the cooked anchovies in a bowl and now add the pine nuts and almond to the fry pan and toss them until slightly brown. You can chop the almond into smaller pieces.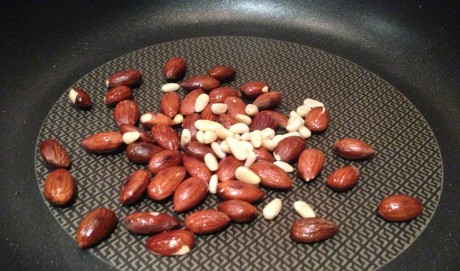 Pour the anchovies back to the fry pan and sprinkle a little bit of brown sugar and sesame seeds. Ready to be served!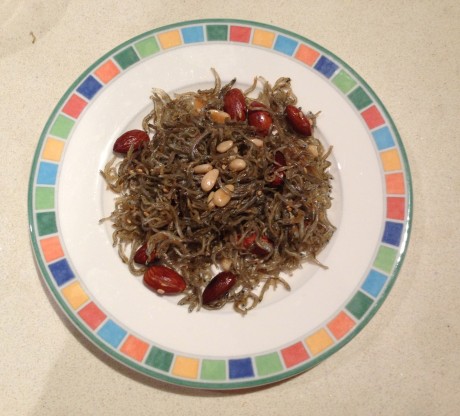 Stir fried dry squid strips – 오징어 볶음
300g Dry squid strips

1 tsp of soy sauce
1 garlic crushed and finely chopped
1/2 chopped spring onion
1 tsp sesame oil
1 tsp sesame seeds
some vegetable oil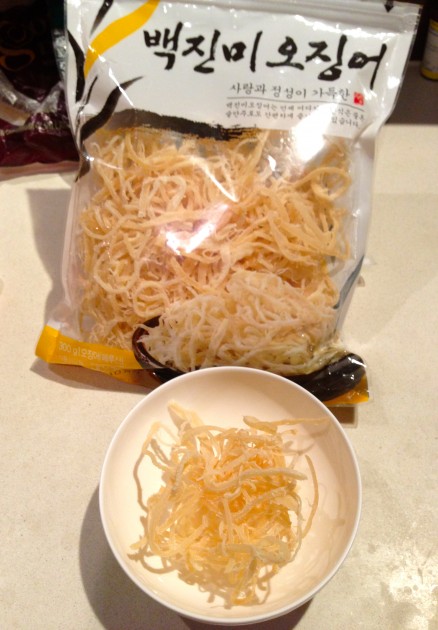 Add 1 tsp of vegetable oil in the fry pan in low heat and pour the dried squid strips

Mix soy sauce, garlic, spring onion and sesame oil
Cook lightly until the squid strips are soft. (3-4 minutes)
Add the soy sauce mix to the fry pan and quickly marinate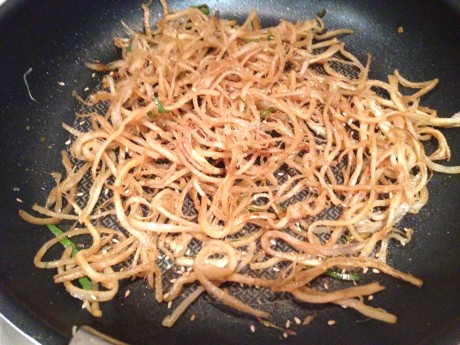 Sprinkle sesame seeds and ready to serve!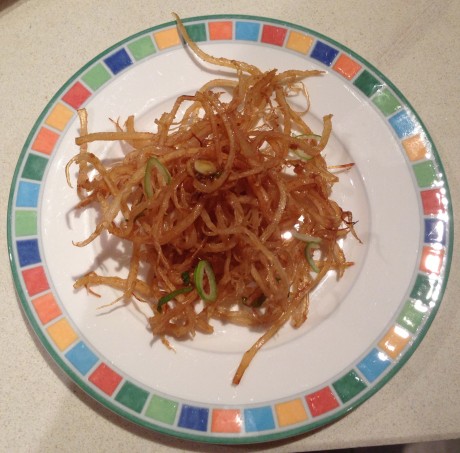 Here are some other side dishes I have served at the dinner party.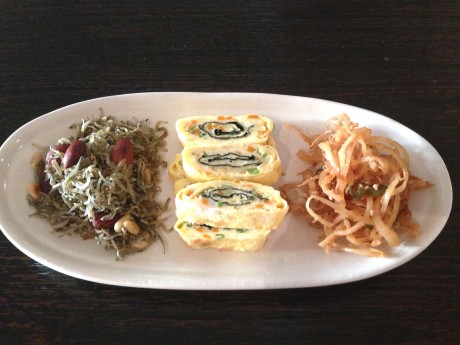 Easy to make and convenient if you don't have much time to cook.