Due to the recent bad weather in Korea its been difficult getting fresh Korean vegetables in Singapore. In Sydney there is a big Korean community and a lot of vegetables are freshly grown locally. I have been taking it for granted thinking that I could get fresh vegetables anytime.
In order to overcome my frustrations, I decided to grow one of the vegetables that has been hard to come by lately – Korean young zucchini. After a month of babysitting, I had my first harvest!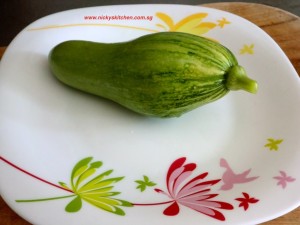 To celebrate, I decided to cook Korean miso soup (den jan jji ge – 된장 찌게) as it is one of the vital ingredients. Denjang jji ge is one of the most common dishes you find on the Korean dinner table. (with Kimchi jji ge being the first, of course!)
To cook Seafood den jang jji ge, you need:
Ingredients
3 cups of anchovies stock, 1 potato, 1 Korean zuchini, 1 onion, 1 red & 1 green chillies, 1 & 1/2 tbsp soy bean paste, 1/2 tbsp Korean chilli sauce, 1/2 tsp minced garlic, spring onion, and any  type of seafood  you like (except fish).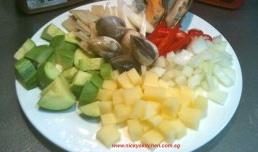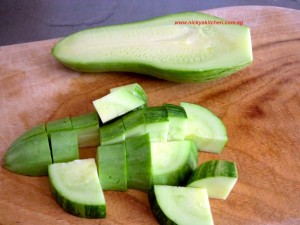 Put the anchovy stock in a pot and add the soy bean paste, chilli sauce and garlic and boil for about 3 minutes.
Add the potato, onion, zucchini and clams, mussels and cook until potato is almost done.
Add prawns, tofu, red & green chilli, spring onion and cook another 3 minutes.
Transfer the soup into a bowl and serve with a bowl of rice.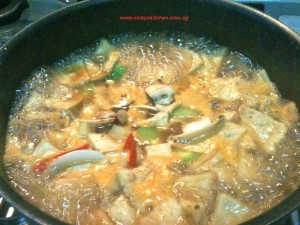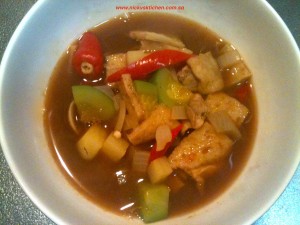 I made some soybean sprout salad the other day  so I served it with the soup along with multi grain rice… Very healthy dinner!