1.Yang nyum chicken (양념 치킨) Serves 2 people
Ingredients:

16 pieces of Chicken wings and drumsticks

Batter:

1 cup plain flour
1 cup corn starch
1 tbsp Cajun spice
1 tbsp chilli powder
½ tsp salt
½ tsp sugar
1 cup cold water

Cooking oil for deep frying

Chilli Sauce:

4 tbsp Korean chilli paste (gochujang)
2 tbsp ketchup
2 tbsp sugar
2 tbsp chilli powder
2 tbsp tobasco sauce
1 tbsp garlic, finely chopped
1 tbsp corn syrup
1 tbsp mirin (cooking wine)
½ tbsp of sesame seeds
½ cup of water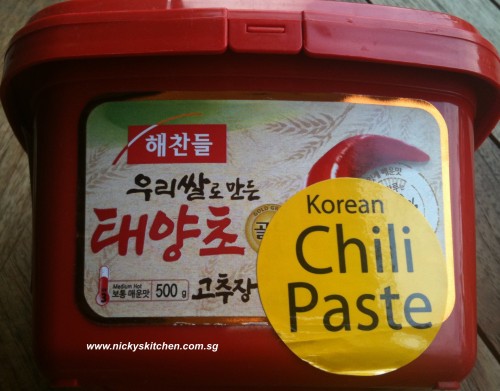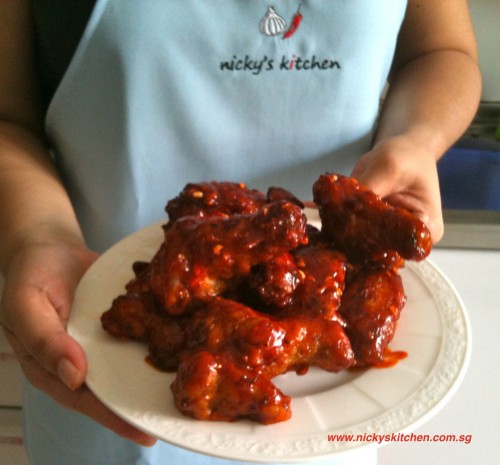 Instructions
Trim off the excess fat from each chicken wings/drumsticks and soak in milk for 40 minutes. Wash the chicken in water and pat dry with paper towel.
Combine the chilli sauce ingredients. Heat a large frypan and cook the chilli sauce for 2-3 mintues until the sauce becomes slightly thick.
Combine the batter in a bowl and adjust the flavour as needed to your level of spiciness.
Pour the oil into a deep frying saucepan and hear until it reaches about 180° celcius. Dip the chicken pieces into the batter and then gently drop the chicken into the oil for 5 minutes. Remove the chicken and increase the temperature of the oil to 190° and refry the chicken for a further 2 minutes. Drain the chicken on a plate with a triple layer of paper towel. Let it rest and reheat the chilli sauce.
Coat the chicken completely in the chilli sauce.