I wonder how the year has passed by right in front of my eyes so quickly. 2013 has been filled with mostly happy memories. My husband and I celebrated our 5 year wedding anniversary, 10 years since we first met and our first complete year in Bangkok. I am still traveling back to Singapore whenever I can to conduct group classes and private events. Hopefully, there are  lots of interesting adventures in store for us 2014.
A late update of my not so recent trip to Seoul….
If you are planning a trip to Korea, I think Autumn is the best time to travel. I was almost shocked  at how clear the sky was and how refreshing the air was.  You could mistake this picture with a postcard. No photoshop, a quick snap of Seoul with my iphone from the subway.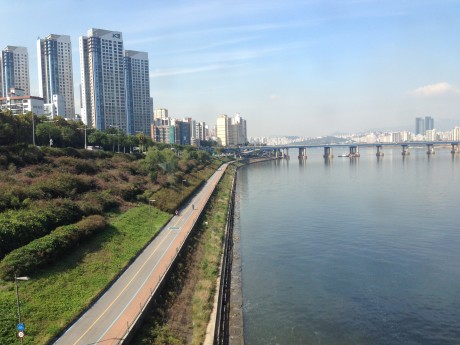 I like trying new dishes whenever I visit Seoul. Italian cuisine is the latest trend in Korea. It's not quite my scene as I always look forward to authentic Korean food whenever I am there. Oh well, I can't try Italian food in Korea, can I, so I resisted and stuck to me beloved Korean food!!
First stop, Gwangjang market for some authentic street food! This time I thought I will be a little more adventurous…
I have tried Chicken feet before and the sight of it has never convinced me to try it again but these ones at the market were rather delicious – especially washed down with a nice cold rice wine.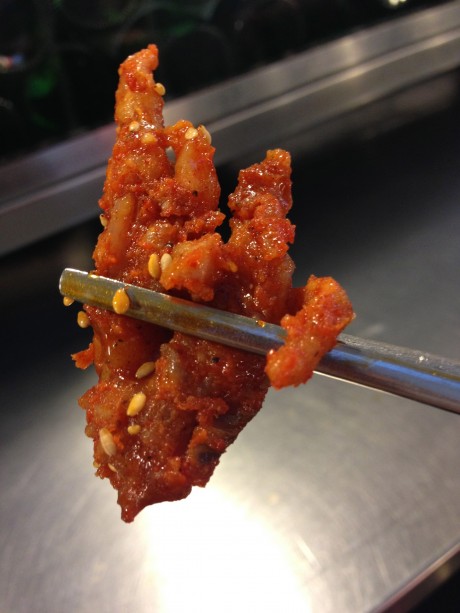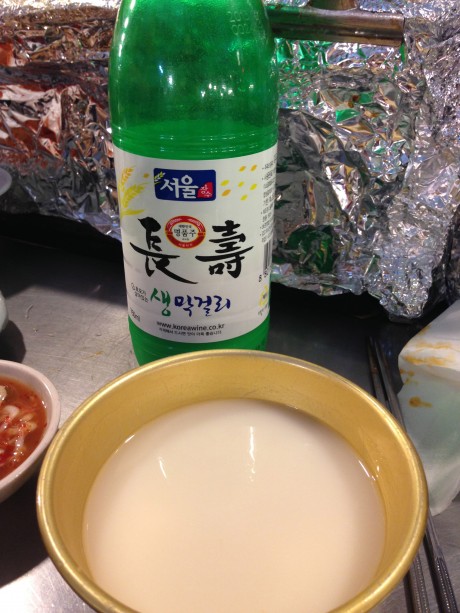 Pork three ways – Pork belly, blood sausage and pigs ear. We used to feed  dried pig's ear to our pet dog, but now it is a delicacy! How can I describe it… chewy??  At least I can proudly say I have tried them for the first time.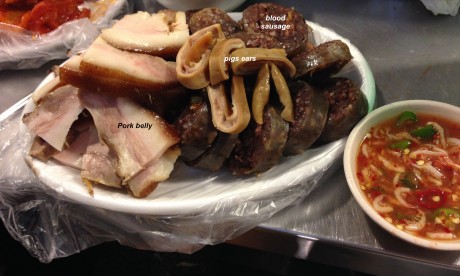 Next, freshly made mung bean pancake.  There were so many stalls cooking mung bean pancakes but they all seemed to be deep frying. We finally found one that used a fry pan. Between three people, we could barely finish half of the pancake. Doggy bag!  The chilli rice cake thought was a little disappointing and quite tasteless… I think I can make this better!!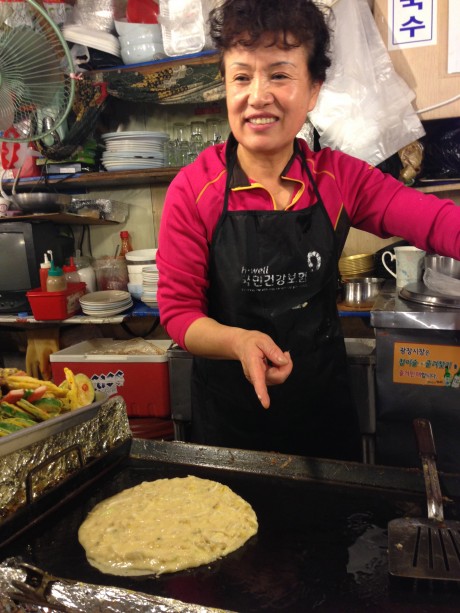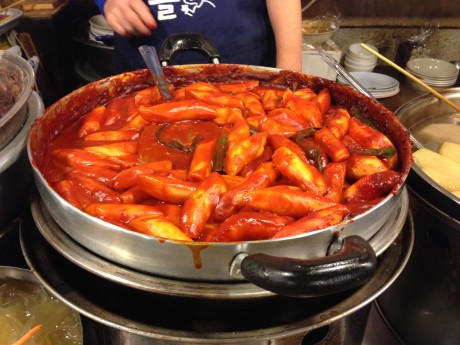 On the second last day of my trip to Seoul, one of my relatives invited me to a neighbourhood restaurant that specialises in oysters. I have always considered oysters as potentially dangerous if you don't eat them fresh. I have had friends get very ill eating oysters in Asia, so I normally only eat them when I go back to Australia.
Apparently oysters are in season from October in Korea. This particular restaurant specialises in Octopus most of the year but from October they only sell oysters.
To start with we had oysters steamed…  After it was steamed for 15 minute or so, we were given gloves and knives to shuck our own oysters. Each oyster was as big as my hand and so sweet!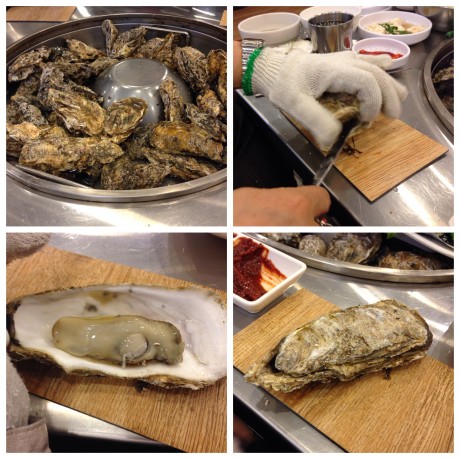 In addition to the steamed oysters, we had a big plate of fresh oysters to wrap with pork belly. I was speechless. It was just amazing. The saltiness of oysters married with boiled pork belly wrapped with chilli radish in Chinese cabbage leaves was just heavenly.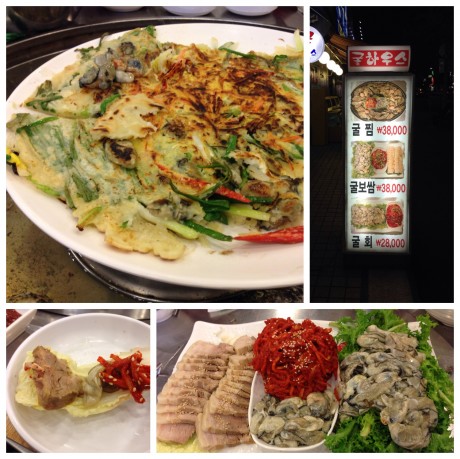 To finish off, we had oyster pancake. I was so full already but I was on a mission to stuff down as much as I can. I wasn't sure when I was going to have this much oysters in one go again!! What was most surprising was the total bill  was only S$100 including alcohol. What a bargain!!
For my last night in Seoul, my parents decided to pamper me with my favourite food which is also in season.  Crabs!! My parents bought live crabs from the seafood market and steamed them straight away for dinner!  Can you tell which ones are male and female crabs? Females have lots of eggs but less meat and male crabs are very meaty.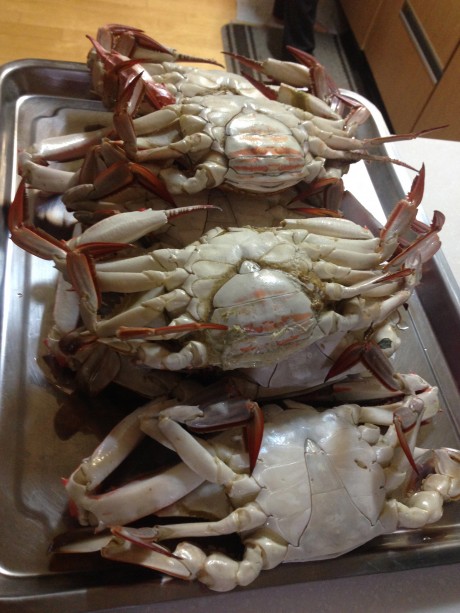 The two top ones are females and the bottom one is male. Can you see the difference in shape of their tummy? Female ones have inverted U shape and males ones are shaped like a tip of a rocket.
Dinner time!!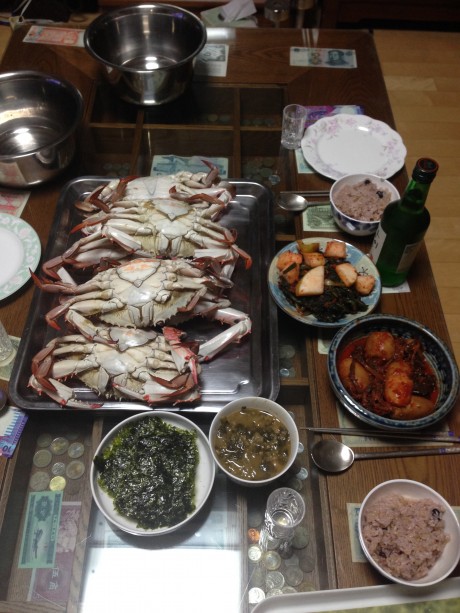 When you open the female crab, you get the orange eggs and it's juice. I prefer female crabs so I can mix the eggs with steamed rice! I wouldn't indulge too often, they are high in cholesterol.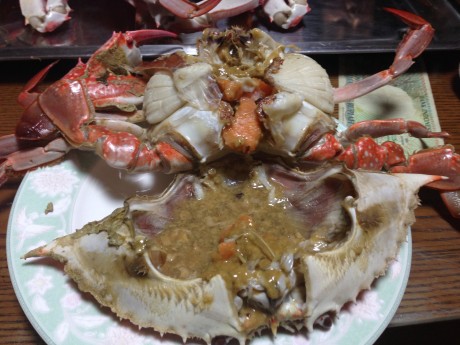 We just demolished them….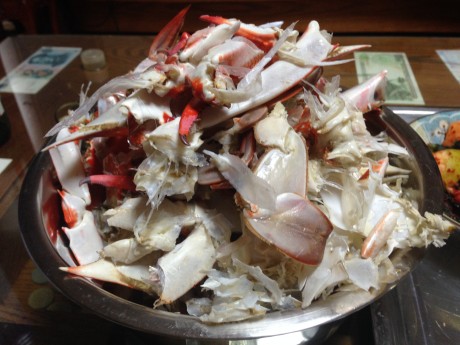 I have so many photos and stories to share about this trip but it will have to wait until 2014. We are back in Sydney visiting family and friends and enjoying beautiful Sydney. It's been a while since we had our Christmas back home, I am ready for Christmas ham and Christmas cake cooked by someone else!
Have a fantastic Christmas and see you all back in New Year!