As soon as I booked my ticket to Korea yesterday, I put together a list of Korean food I have been craving and emailed  my girlfriend in Korea to do some research. Yes, finally I am going to Korea again!!!
My food wishlist went like this:
BBQ Chilli Octopus (Nak ji bok eum – 낙지볶음)
Cold noodle (Neng myun – 냉면)
Black bean noodle (Jja jang myn – 짜장면)
Chilli rice cake (dduk bok yi – 떡뽁이)
Braised Chicken (Jjim dak – 찜닭)
BBQ chilli Pork (돼지 불고기)
Handmade noodle (Kal guk su – 칼국수)
Potatoes stew (gam ja ttang – 감자탕)
My craving was so bad, I decided to make Chilli octopus. I am salivating again just watching this photo, it must be the chilli…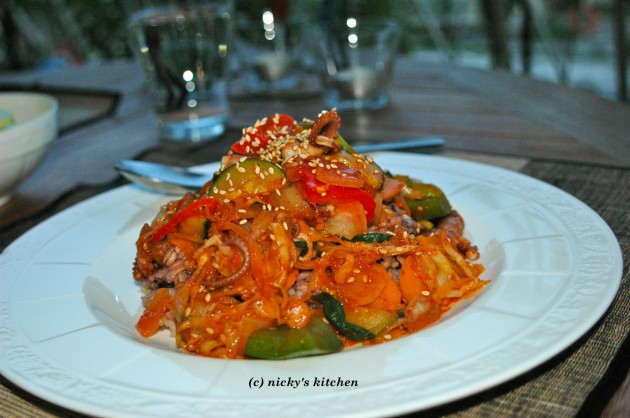 Since it's impossible to get live Octopus in Singapore, I bought frozen ones from a Korean store. They were actually not bad. Usually if you get poor quality ones, the octopus will be as tough as rubber.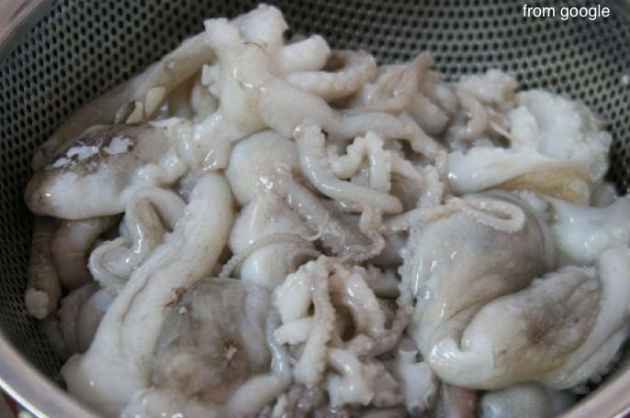 Ingredients: 1/2 kg Octopus chopped  into 4cm length, 1/2 onion, 1/2 green & 1/2 red capsicums, a handful of white cabbage thinly sliced, 1/2 zucchini, some spring onion, 1 tsp vegetable oil
Sauce: 2 tbsp Korean chilli sauce (go chu jang), 2 tbsp Korean chilli powder, 1 tbsp brown sugar, 1 tbsp minced garlic, 1 tsp minced ginger, some sesame oil and sesame seeds
I mixed the sauce first(without the sesame oil and seeds) and set it aside while I was preparing the vegetables. Very spicy!!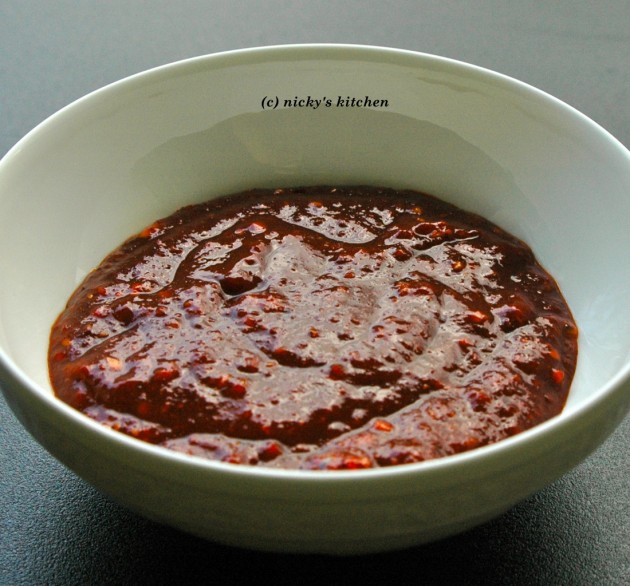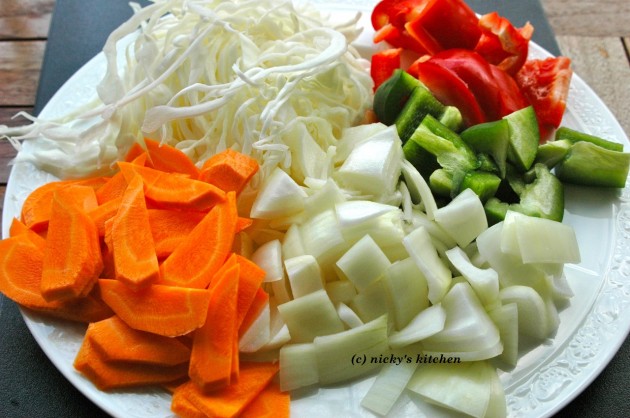 To make sure you don't over cook the octopus, I added some vegetable oil in the pan and cooked the vegetable first. Then I mixed in the octopus and the sauce with the vegetables and cooked it a few more minutes. It's amazingly a quick dish.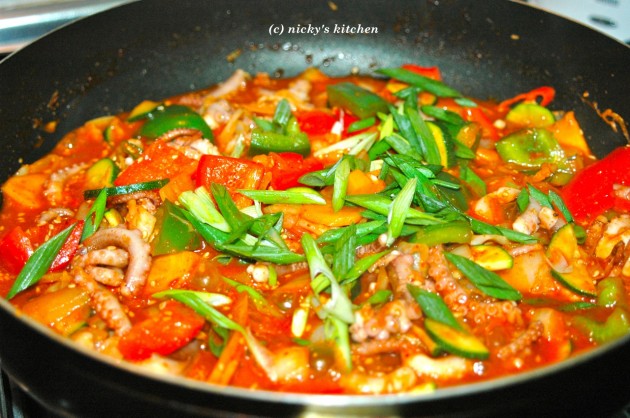 I can't believe how red it looks….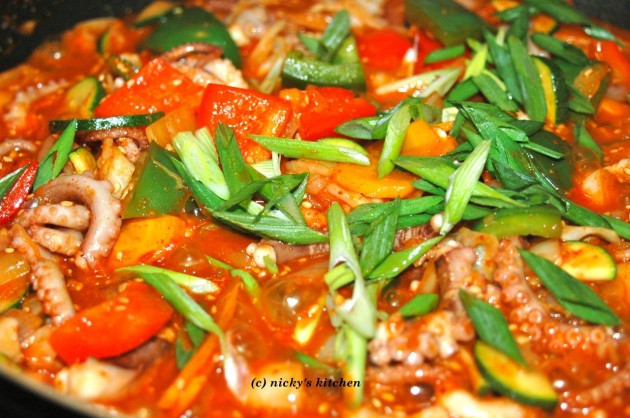 There are many ways of serving Chilli Octopus but tonight will be Chilli Octopus on rice for dinner.  Some sesame seeds on top.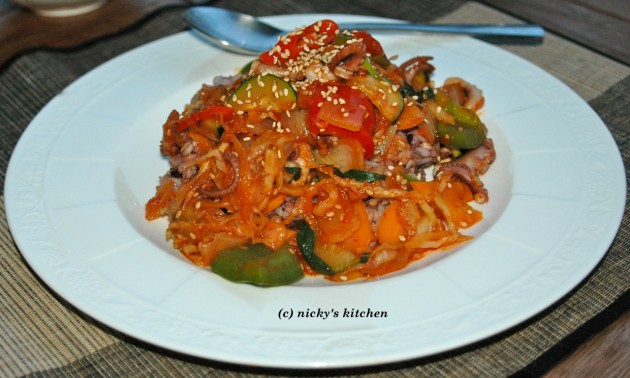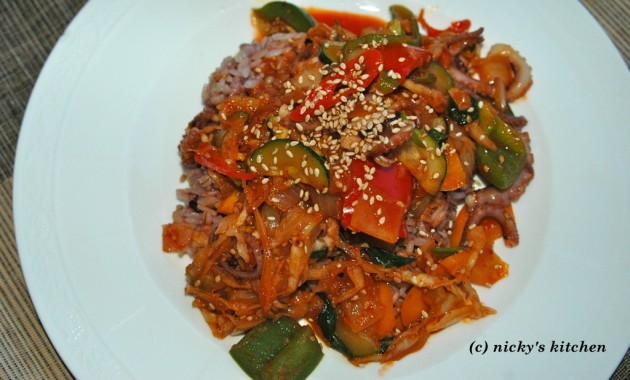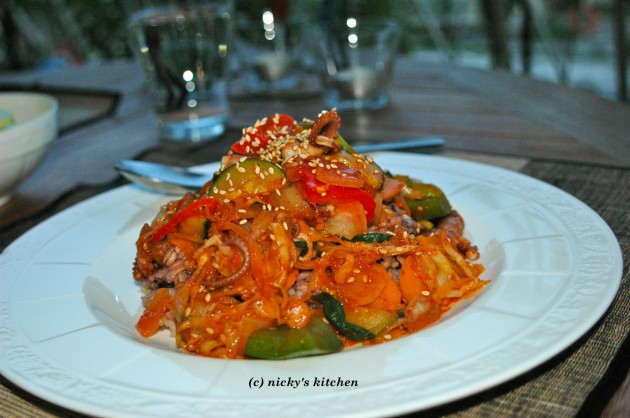 In Korean restaurants, Chilli Octopus is commonly served on a hot plate. They will cook the octopus in chilli sauce for you first. As you eat the octopus, they add rice or noodles with more chilli sauce for you to eat. Every time I go to Seoul, this dish is the first thing I must have. One of my best friend in Korea couldn't eat this dish as she had allergies to Octopus but somehow her allergy is gone! So, we are off to Myung dong(명동) as soon as I arrive, where there is a street full of Chilli Octopus restaurants. Yum Yum!!
So, it's been a while since I visited Korea. I am leaving next Monday for a week to catch up with some friends and family, lots of shopping(mainly food), stock up some Korean ingredients and eat until I drop. I promise to take lots and lots of photos of food and cool people in Seoul. Count down! 🙂