A lot of people ask me my favourite Korean restaurant is in Singapore. My answer is not a Korean restaurant but a Korean/Chinese restaurant. I found a restaurant called "Dong bang Hong" by accident on Joo Chiat Road about two years ago when I moved to the East Coast Area. Whenever I have cravings for Korean food, I head  to this restaurant. Dishes that I order are not your typical Korean dishes but modified Chinese dishes such as Jja jang myung (짜장면-炸醬麵) and Jjan bbong (짬뽕)
Jja jang myun is served with a handmade noodle and black bean sauce. It's believed to have originated from Chinese migrants living in Korea.
I made the sauce for the jja jang a few days ago and instead of serving it with noodles, I served it on a bed of rice.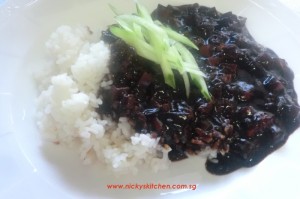 How to make jja jang sauce:
Ingredients – 3 potatoes, 2 onions, 1 carrot, 1/2 zucchini, 1/6 cabbage, 1/2 cucumber sliced thinly, 200g pork mince,  200g prawns (meat only), 1 pack of Korean black bean sauce, 2 tbsp rice wine, 2 tbsp vegetable oil, sugar, pepper, ginger powder, dried prawn powder, 1/2 cup potato starch water, 2 cups of water.
Prepare all vegetables and prawns by chopping them into 1 cm cubes and put them in a separate bowls.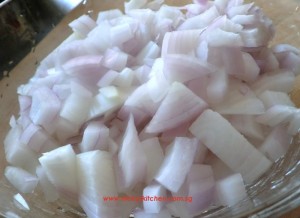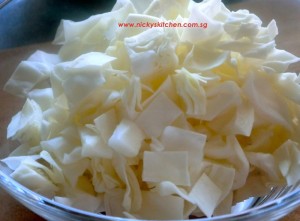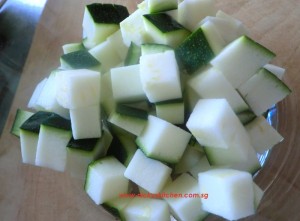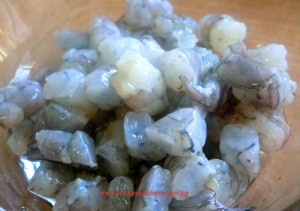 Mix the pork mince in the rice wine, add a pinch of salt, pepper and ginger powder then set aside. This is to reduce the smell of pork.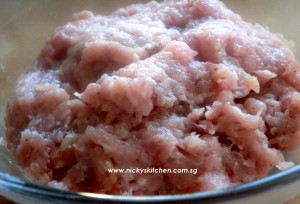 Add the vegetable oil to a wok on a medium heat. Once the oil is heated up, add the Korean black bean sauce and cook for 5 minutes.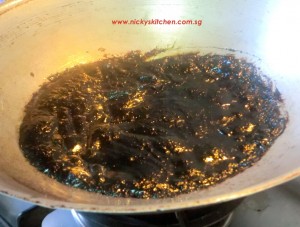 In a separate frypan, cook the pork mince in vegetable oil for 5 minutes. Then add potatoes and onion and cook until they are almost done. Add the rest of vegetables and cook another 5 minutes.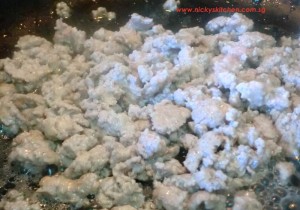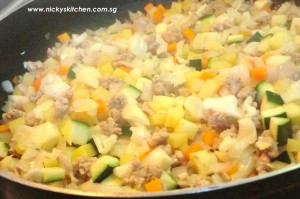 Add the vegetables to the black bean sauce and season with salt and sugar. I kept adding sugar until the sauce was no longer bitter. (I must have put at least 5 tablespoons of sugar). Pour 2 cups of water and boil for 10 minutes. If you prefer, you can use stock instead of water. (I didn't have time to prepare the stock so I added a tablespoon of dried prawn powder to enhance the flavour). Add the potato starch water to thicken the sauce.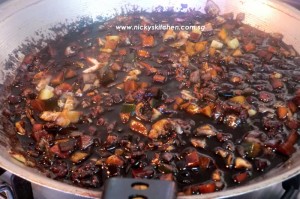 Serve the jja jjang sauce on top of cooked rice and add some sliced cucumbers to garnish. Hmmmm, now I am hungry again!!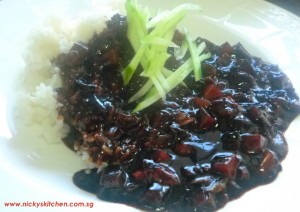 If you haven't tried jja jang myun, definitely head to the Dong Bang Hong restaurant first before cooking the dish so you get a sense of what the finished dish looks and tastes like. Whilst you are there, check out their jjan bbong – it's another favorite of mine.
In Korea, someone invented a bowl that has a divider in the middle of the bowl. This is so you can eat both jja jang myun and jjan bong at the same time. That's because they are both so good tit's hard to just order one without the other.
Address: 92/94 Telok Ayer Street, #01-01 Far East Square, Singapore
Tel: 6327 9036 (close Sundays)