As  promised in my last blog, I had a go at making gam ja ttang(감자탕) which means potato stew. Its main ingredients are potatoes and pork back bones. I was so nervous for some reason and kept thinking "what if things go wrong" and "am I going to waste all these ingredients". I eat gam ja ttang regularly whenever I go to Seoul so I'm not really sure why but I always thought this dish would be impossible to make. I'd never even contemplated making it before in my life. On my last trip to Sydney, I brought back some pork back bone with the intention of cooking it one day.
How to make gamjattang:
Ingredient list 1 (used to boil the pork and remove the meaty smell): 20 whole black peppers, 2 bay leaves, 1 leek (only white part), 3 tbsp soju(Korean rice wine), 1 tbsp Korean soybean paste(denjang), 3 cloves garlic, 4 slices fresh ginger.
Ingredient list 2 (main ingredients): 1kg of pork back bones, 3 L water, 300g sesame leaves, 4 potatoes(half boiled and cut into halves), 5 Chinese cabbage leaves(I replaced this with kimchi), 1 pack enoki mushrooms, 2 red chillis, 2 green chillis, 4 tbsp  Korean soybean paste(denjang), 3 tbsp chilli powder, 2 tbsp fish sauce, 2 tbsp minced garlic, and salt.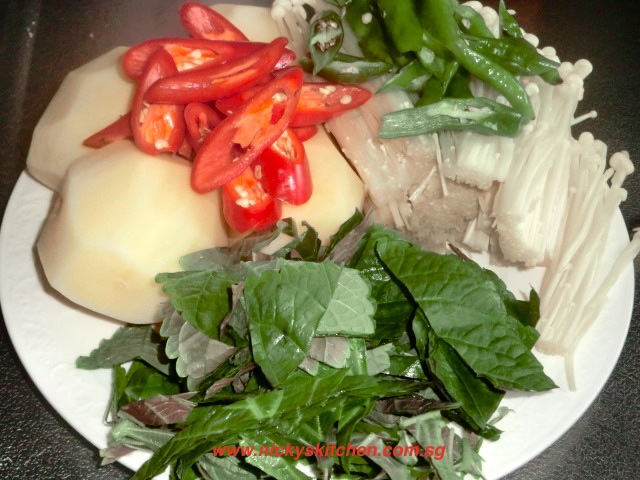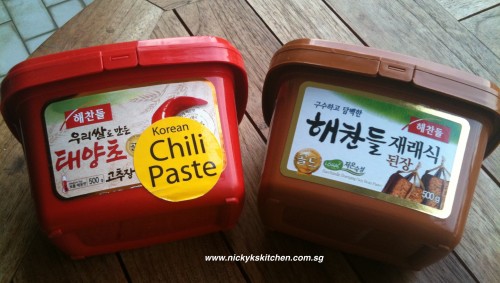 For those of you who do not know what sesame leaves look like, here is the picture below. This was mainly served as a side dish until I realised a lot of BBQ restaurants in Korea were serving it to wrap the meat in.  Sesame leaves are  essential for gam ja ttang as it brings a very aromatic smell to the dish.  I was hoping one of the Korean grocery stores in Singapore would stock them, but after three months of searching, I gave up. I ended up finding them in Hong Kong. A fine example of  global food shopping!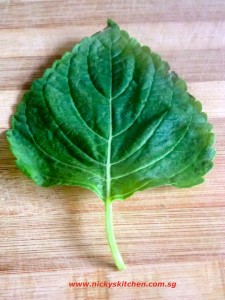 Let's start cooking! Firstly, the pork bones must be soaked in water for 2-3 hours to remove all the blood from the bones. Once this is completed, add the pork with ingredients list 1  above and 2 L of water and boil for about one hour. This is to reduce the smell of pork. I removed the black peppers and bay leaves from the pot after one hour.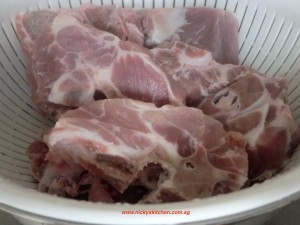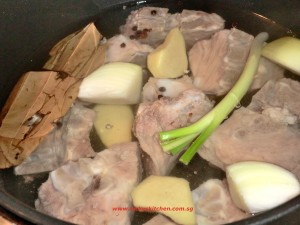 While the pork is boiling in the pot,  I made a sauce using the soybean paste, chilli powder, fish sauce, garlic and salt. Pour  an additional 1L of water into pot and add  two spoonful of them. You can add more to make it spicier.
Then add kimchi, sesame seeds leaves and potatoes and continue to boil until the meat is about to fall off the bones. Mine took another 30mintues or so. As a final touch, add mushroom, red and green chillies and some more shredded sesame leaves and  boil it for 5mintues more.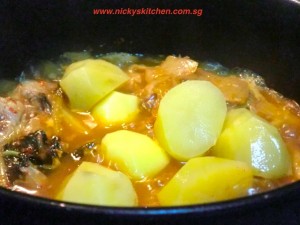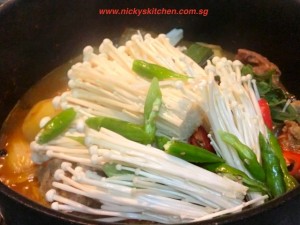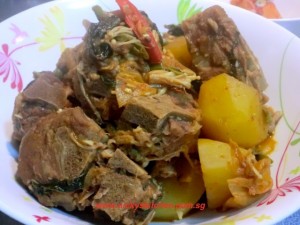 Gam ja ttang is best served with radish kimchi(kkak du gi)!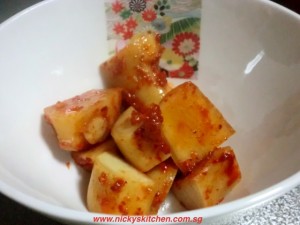 You dip the pork bone meat into the wasabi sauce (wasabi paste and some water) to bring the zing!
On top of this great meal, I used the left over sauce in the pot to make some fried rice and it was amazing! All you have to do is add plain white rice into to the pot, some shredded sesame leaves, dry seed weed (gim), and sesame oil. Mix on  the stove for 5minutes!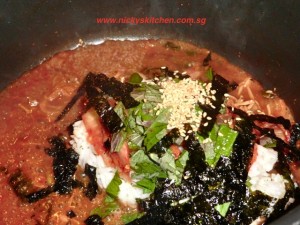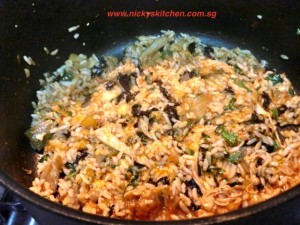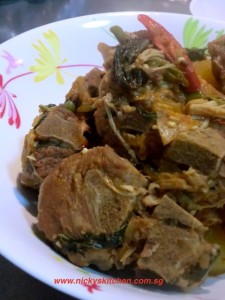 I am hoping I will get hold of more of the pork back bones and sesame seed leaves soon so I can make it again.
PS: sorry for the radio silence, December was a busy month with lots of activities and I was hoping to start 2011 with a bang but I have been suffering with a cold. I promise I will write more frequently. I have so much more I want to share with you all!! 🙂