Hi, welcome to Nicky's Kitchen!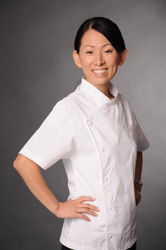 There are two things that give me stress relief – cooking and dancing! As I couldn't go dancing after a hectic day at work (none of the clubs in my area open at 7pm), cooking has become my infatuation.
I was born in Seoul but my family moved to Sydney when I was 14.  As my parents were both working, I became the family chef. Back then, cooking was more a chore than pleasure. I was young and naive, and had no idea of the pleasures that cooking could provide.  One day it was like waking from a dream and I had the urge (just like Remy from Ratatouille) to try new dishes with my own flair.
I relocated to Singapore 9 years ago for my work. Since nothing much is grown here, I started my own little balcony farm, harvesting tomatoes, capsicum, beans, basil, rosemary, sage and lots more. There's nothing like freshly picked ingredients to bring a dish alive!
Whilst I've entertained my friends with exotic dishes from all over the world, these days, I've gone back to my roots cooking Korean food. I didn't realise until I started working on my blog that my far flung family are all in the food business – my grandmother had a restaurant specialising in hang-over soup (he-jang-guk), my great aunt has a famous restaurant in Seoul specialising in bi-bim-bap and the list goes on all the way  to my aunt baking Korean deserts in Los Angeles.
My blog is  all about having fun cooking and gardening.  Life is too short to be too serious!
**UPDATE**
After 9 fun filled years of teaching students Korean cooking and growing a delicious array of vegies in my garden in Singapore, I have moved to Bangkok. I arrived towards the end of 2012 in search for new adventures. I am still traveling to Singapore to teach on a regular basis and you can still arrange classes at anytime. In the meantime, I am sharing my passion in cooking Korean food and growing my vegetables and herbs in my balcony with the local Thai and expat community.
Happy reading….