Today is the first full moon on the Lunar calendar (Daeboreum) and Koreans celebrate this occassion in many ways. One of them is of course eating specific food such as steamed rice with five multi grains (오곡밥) and rice cake called Yak sik (약식) which literally translated means "medicinal food" (Yaksik was first written about it in the 13th century)
Rice cake is one of  my favourite Korean foods. My uncle used to own a rice cake shop when I was young and it was like I was in a candy shop. It's the combination of the taste, chewiness and colour that I really like about all the rice cakes.  There is one Korean rice cake shop in Novena Square II in Singapore but I have not found a rice cake shop here in Bangkok yet.
Yaksik is really easy to make and Thailand has high quality glutinous rice so here we go! It's a short cut version today as I didn't have all the ingredients and instead of steaming in a traditional way, I used my rice cooker which has a steaming mode with pressure cooking options.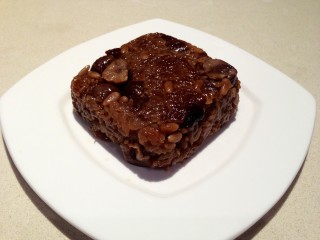 Yaksik
Serves 10 people
2 cups of glutinous rice

2.5 cups of water
1 tbsp sesame oil and some for brushing
3 tbsp of brown sugar
2 tbsp Muscovado sugar (can be substituted with molasses)
1/4 tsp of cinemon
a pinch of salt
200g of dry cranberries*
200 g of uncooked and peeled chestnuts**
1 tbsp of pine nuts
1 tbsp of saltanas
Molds to shape your rice cooker, (could be a glass container or small baking tray).
*Chinese red dates should be used in the recipe normally but I used cranberries as I couldn't find Chinese dates anywhere in the supermarket!
**Only cooked and peeled chestnuts were available.



Soak the glutinous rice for 1-2 hours and strain the water. If you soak for a longer time, remember to reduce the amount of liquid when cooking or it gets really sticky. The ratio of rice to water should be 1:1.5 but if you soak the rice over night, it should be 1:1. I wanted mine a little less sticky.

In a pot, add brown sugar, muscovado sugar, cinamon, salt,  sesame oil and stir until all the sugar is desolved. Leave it cool down for 10 minutes.
Mix the rice and chestnuts, cranberries, saltanas and pinenuts and then add the sugar syrup. Mix it well.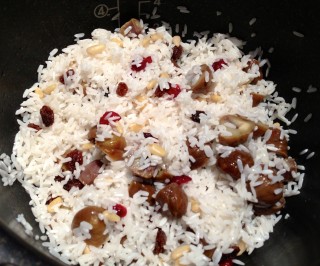 Set the rice cooker for 30 minutes and go! My rice cooker talks… It says in Korean "Hello, it's ready to steam!". How cool is that?!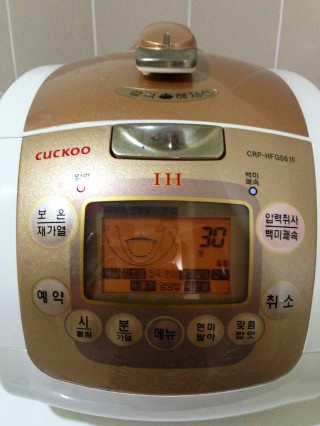 Once it's completed, stir the Yaksik.  Brush the mold with sesame oil and add the yaksik in the mold.  Leave them for 30 minutes to cool down and it will take a shape of the mold.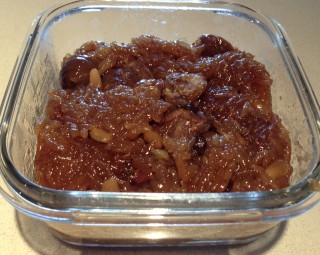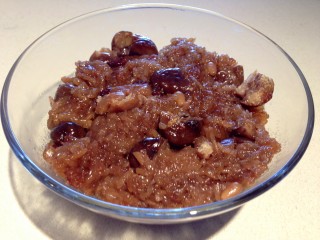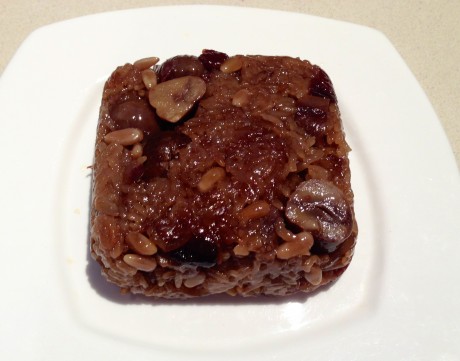 Am I getting nostalgic as I am getting older? I seem to be cooking food that I used to enjoy when I was younger in Korea. I hope you enjoy this recipe and get to try it out for yourselves. Except the part of soaking the rice, it barely took anytime to get this  done.  Hope you get to see the full tonight, wherever you are… Have a great week!