For my birthday present, I received an interesting book which illustrates how some Korean and western food originated. Translated, the tittle of the book is: "Even the golf fish bun has a family tree". It basically means, there is a story behind all types of food and dishes.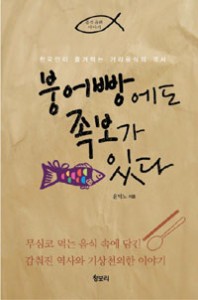 I'll translate and share some of the stories on Korean dishes with you over next few months beginning with a Korean dessert called ho dduk (호떡-胡餠).  It's a round, flat pancake filled with sugar and peanut. You can find ho dduk being sold by street vendors in Korea during autumn and winter.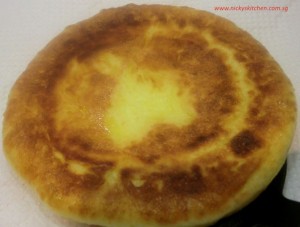 Apparently, ho dduk originated from countries like Uzbekistan, Kazakhstan, and Pakistan. Traders brought the snack via the Silk Road through China before finally reaching Korea. Back in  those days, ho dduk was only for the rich or king's family as wheat flour was rare and the technique of using yeast was new to Koreans.
There is a proverb in Korea: "There is a fire at the ho dduk store" which is used to describe when something is very noisy. According  to 1920's newspapers articles there were lots of reports of fires starting in the ho dduk shops. Back then ho dduck was fried on an open fire. In addition, many of the owners were Chinese. So the saying came about because no-one knew what the Chinese were saying (perhaps "fire fire!"). To the Koreans it was just a lot of noise. Funny, huh?
My aunt sells both gold fish bun and ho dduk in LA so I asked her for the recipe. Its usually a 3 hour process as you have to wait for the flour to rise but I will show you a short cut version. By the way, the recipe my aunt gave me has a cup of Korean rice wine (so ju).
All you need is a packet of ho dduk pre-mix from a Korean grocery shop. The best thing about this is you don't need wait for the flour to rise.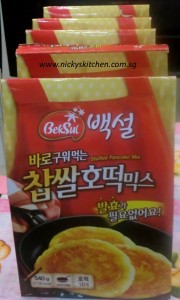 Inside the box, there is one packet of yeast(red packet), flour mix(orange packet) and sugar mix(brown).  All you need to add is 250ml of water and some vegetable oil.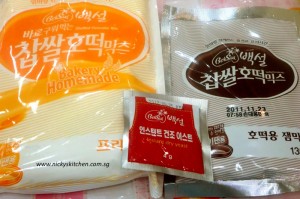 How to make it ho dduk:
Take the yeast from the ho dduk pre-mix packet and place in a medium size bowl. Add 250ml of warm water and mix well.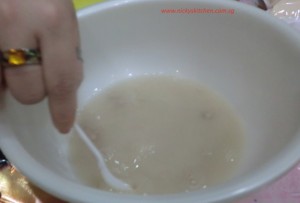 Pour the ho dduk flour mix into the bowl and kneed for 5-10 minutes.
Prepare the sugar mix in a bowl.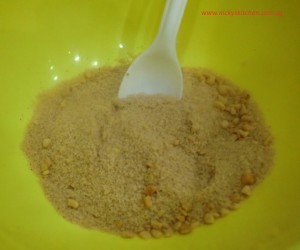 Grease your hand with the vegetable oil and divide the dough into 10-12 small balls.
Flatten the ball and make a dimple in the middle. Then add 1-2 teaspoons of the sugar mix. Seal the sugar mix in the dough by folding the dough over the dimple.
Add 2-3 tablespoons of vegetable of oil on medium heat to a frypan, then place the ball into the frypan and let it cook for about 30 seconds.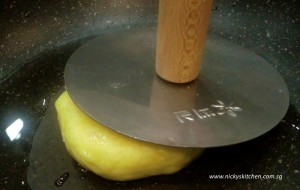 Flip the ball and flatten it with a spatula until it's round and flat.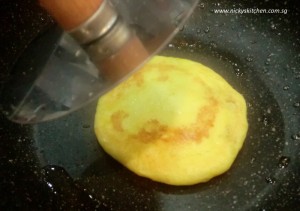 Allow it to cook for a minute on one side and then flip to the other side to cook another minute.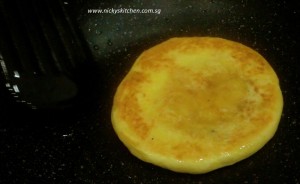 Remove from the frypan and let it cool on a paper towel.
Here are some pictures from my ho dduk class I conducted last week. Happy cooking!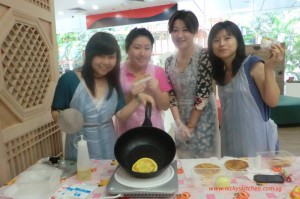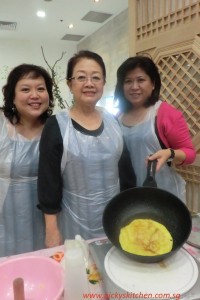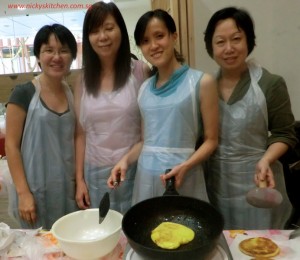 PS: Thank you for all your emails and comments. If you post questions/comments on my blog, everyone can join in and share their experiences.  For the next two weeks, I am giving away a mystery Korean ingredient for the two most interesting questions/comments on each blog. This applies to replies from Singapore and Malaysia. I look forward to reading your questions and comments! 🙂