A quick one tonight…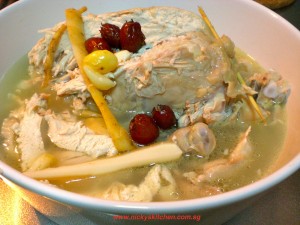 I prepared Ginseng Chicken soup (aka sam ge tang 삼계탕) for dinner to test out my recipe for this Saturday's class. It's been a while since I made this but it still tasted really good. My husband loved it especially because it was a perfect meal for his flu.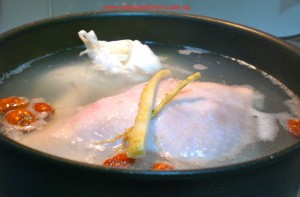 The white cloth you see in the pot above is cotton bag containing glutinous rice. I was cooking extra rice this way so I could make chicken porridge with the left over broth once we finished eating the chicken. Amazingly the ginseng was  not over powering the soup. My husband hates ginseng and was really worried that he have to skip dinner. Phew….
So far the chickens I have seen in the supermarket here in Singapore are too big for the ginseng chicken soup. Normally the chicken has to fit in a small clay pot to serve. I think I might have to wander down to Tekka market in search for  a kampong chicken.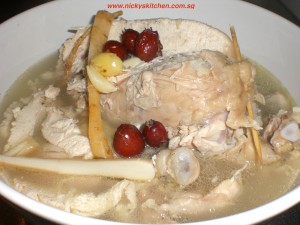 My husband got to the chicken before I got a chance to take some photos, so the top of the chicken was gone. 🙂